Today I am starting a new blog post series called Create Along with iHanna. Please join in! It will be a resource that you can bookmark and use when you feel low on inspiration. I think that it happens to all of us from time to time, so my hope here is that this will encourage you to be creative, to look for free resources and to create along with me!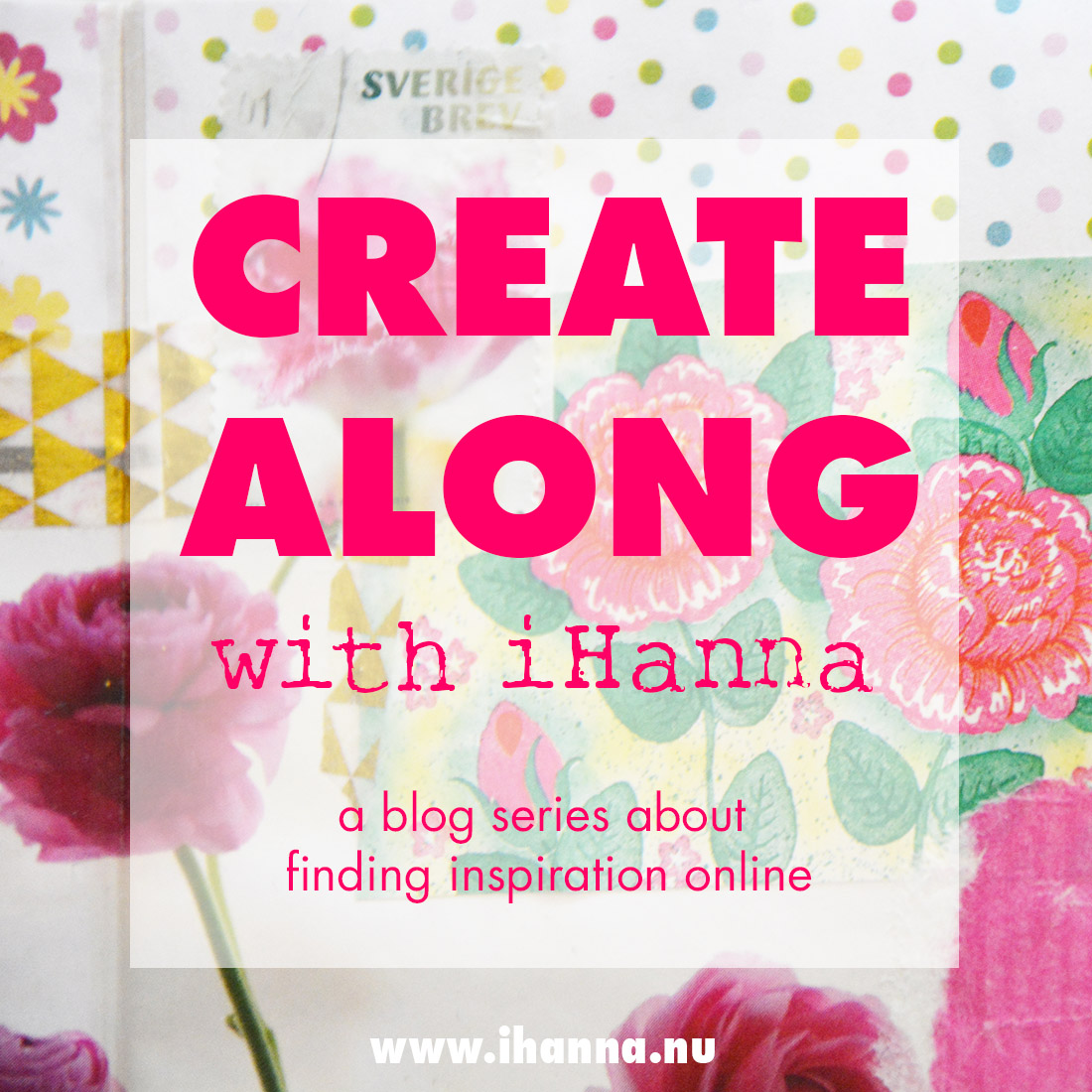 The internet is such a huge and wonderful resource that we can use to become "more creative" – but it is also hard to find the gems sometimes. That's why I keep sharing my findings, year after year, with you guys.
To rejuvenate your creative practice you need to constantly be looking for inspiration to "refill the well" as Julia Cameron puts it. She recommends journaling (called morning pages) and Artist Dates (going out on your own to find inspiration) to refill the well. I like both of these practices, and I have another one to add to it that you might have tried already. I call it "create along" and it is about learning from someone else, or creating alongside someone else. It's close to the artist date thing, but you can do it in a few different ways. Alone or with friends, IRL or online, for example. And in all fields of creativity of course, from sewing to doodling and painting.
For example, you can meet up with a friend and ask them to show you one of their techniques, that's always fun. But often we can't do that. Maybe you don't live that close to your art friends, maybe you don't even have friends that do art in the way you are interested in. Right now we are social distancing ourselves from as many people as we can of course. Maybe, you're like me, and all of the above is true plus you might also be a classic introvert, it's not too uncommon among creatives, I think.
That's why today I am launching something that I'll just call "create along" and it will be a series of blog posts where I invite you to "create along" with me. I won't be the teacher, just one of you guys, though. A student in a free, lovely, fun, easy to do, online little class that you can do any time, along with me.
I hope you'll enjoy it and share a link in the comments to the result of each blog post and even share other resources that we can explore together. I'd love to see what you create!
Create along ideas
I'll list the ideas below as I share them, so feel free to bookmark this blog post to come back to as a reference point and rendezvous place for us to share ideas. If you have a great resource/ tutorial that we could create a long with, feel free to e-mail me about it and I will check it out for future use.
First one will be up next, then another one as soon as I can manage!
Free Art Class (kind of)
Painting a watercolor meadow
Quirky owl painting
You can subscribe to blog posts via e-mail here and you will get all blog posts in the series sent to you via e-mail, for as long as you want to.
Also, feel free to join my occasional Newsletter – I'm gearing up for selling junk journals this fall!
Happy creating friends!