Reminding one another of the dream that each of us aspires to may be enough for us to set each other free.
Antoine De Saint-Exupery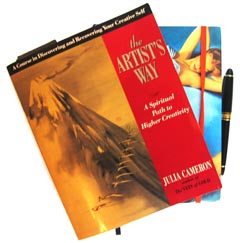 I'm reading Julia Cameron's book about the The Artist's Way right now. I got it in a thrift store and started reading immediately and I've been following the exercises each day since. I'm now on week four, which means I've written a lot in my journal each morning for three weeks.

Journaling is the most important thing when you are becoming an artist (any sort of artist). It is always important to write, according to Julia Cameron. She calls it the morning pages, and with no exception you should write three pages each morning. I've always written a lot, but now I'm getting addicted to the morning writing too. And I think it's a good thing! Julia writes:
Whatever your situation, look for a window. Peer out the window in search of your dream. Open the window a crack to let in fresh air, new ideas, inspiration, and energy. Take one step to meet your dream and watch for your dream to come to you. It will happen. Believe!
[From the Artist's Way site]
I don't think it's possible for me be more creative right now, or my head will blow to pieces… Still, there is always lots left to do and explore. Not to procrastinate – that is my biggest goal right now. What is yours? Maybe you need to change one thing in your habits?
I've recently printed Nita Leland's list of Self-Discipline for Artists, and pasted into the inside of the cover of my diary, where I write my Morning pages. First rule: just do it! It's what Keri Smith writes in her Words of advice for those pursuing their creative goals:
Begin Now. Dream big. Keep moving forward. Research. Acknowledge successes. Connect with others on the path. Work at loving yourself. Trust. Cry (it's o.k.) Connect again with others. Trust. Let go. Take time to fill yourself up again (down time). Reinvent when necessary. Trust. [From another girl at play]
Links on Creativity
Here are some links on creativity… If you have more links and tips on creativity, please tell me. I love reading about this big subject.
So… Why not start today, huh?