Catherine in Portugal, who was in the DIY Postcard Swap last year, created a series of videos showing her entire process for making beginner-friendly DIY Postcards! She is using recycled materials (my favorite) and things she found at home, to make her postcards. I hope you'll find that her try anything approach to the process makes art feel very freeing and accessible.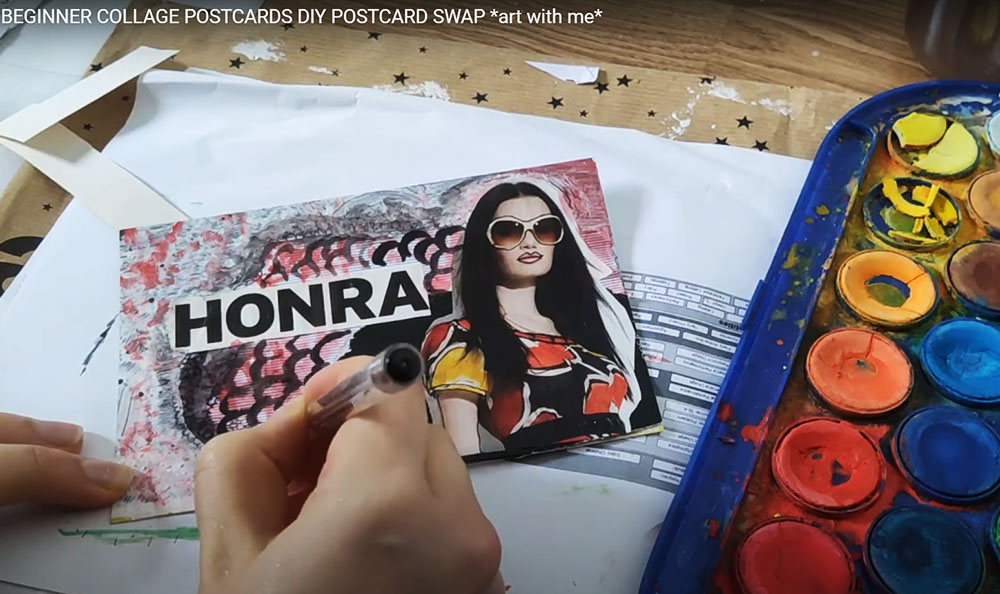 I hope that by sharing her video series today we can encourage some hesitant beginners out there to join the swap (it's not as scary as it sounds to be in a art swap really) – and maybe even film your own process and share it with the community!? If you do, be sure to let me know about it!
If anything, I hope you find creative inspiration where ever you are.
Postcard Process Video x 3
If you can't see the three (!) videos embedded above you can visit Cath on YouTube to watch (and subscribe) to Using recycled materials to make postcards (creating the postcard background) and then continue in a second video where you get to learn a little bit of Portuguese (!) and then we're finishing in the third video (Beginner Collage Postcard for the DIY Postcard Swap) of the series.
Cath has a blog called Random Cath where she writes a lot about how we can reduce our environmental impact and live sustainable lives on this planet (love that). Today I wanted to share these videos of how she jumped in and made both online content and happy mail at the same time.
Catherine wrote to me when sending the links to her videos:
"I love that you share your process and you're an inspiration. I love seeing everything that you do and while I haven't been doing anything for years (the postcard swap was the trigger) I always like to read your posts. I'd love to know how you create so much, I feel like now I'm more critic of myself and when I see the cool things that everyone's doing I refrain from creating."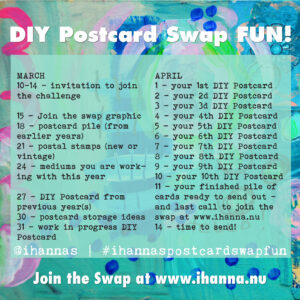 I guess the answer to how I can create so much year after year is that I am interested in most creative things I see, I jump in, I give it a try – and I keep at it, year after year after year… It accumulates. Today all I've done is crocheting, but that is creative too, right?
Further inspiration on YouTube can be found at February and June who made DIY Postcards for Scrappy September although not for my swap this time, and her inspiration in turn, Jenna Tempelton, who in one of her videos from last year shared her DIY Collage Postcard Pen Pal Ideas. So I guess my term "DIY Postcards" is now a thing!?
Join the swap today
Note that you can still join the DIY Postcard Swap here – and also feel free to share about your process on instagram with the hashtag #ihannaspostcardswapfun of course. Join us!