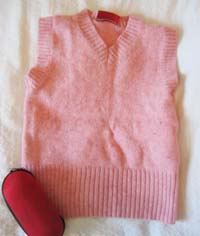 Have you seen the movie Serendipity? It was on TV this weekend, and I saw it again. It is a silly but cute chick flick about how serendipity should work in our lifes… Serendipity is a great word, it means:
The faculty of making fortunate discoveries by accident!

A word invented by Horace Walpole it appears!
And that is also the story of this pink slipover that I bought and then accidently washed in the washer not knowing/checking that it was pure wool!
It shrunk in the wash!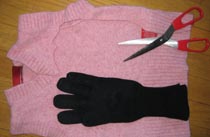 A year ago I would have cast it away and been sulky. But now I've read Do Redo, a book about how to use felted stuff in new ways.
So I washed the slipover once more in 60 degrees, and then made a pair of gloves!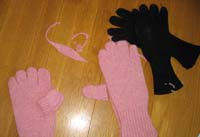 I used a old pair of black knitted gloves as a pattern and cut out the pices out of the pink felted slipover. Thick and soft material, perfect for finger gloves.
I cut out the thumb part separate since the slipover was so small (narrow).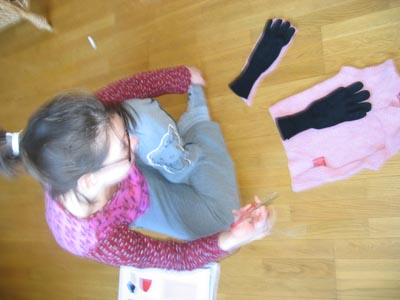 Me on the floor. I didn't have "time" to make a pattern, but using a old pair of gloves worked nicely. I stitched the pices toghether with thin sewing thread and then I embrodered roses on the back of the hand, using superfluous wool from the very long socks-project.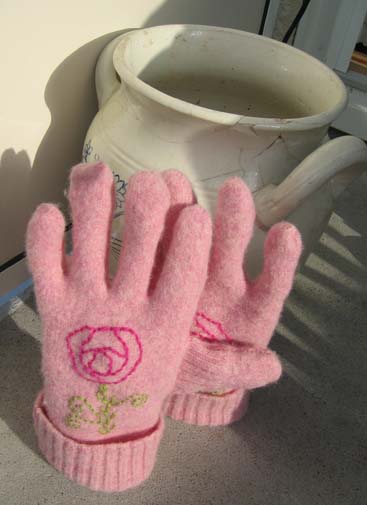 And this is how they came out! Pink, close fit and very girly looking. The waist part is covering the wrist and foldes to a perfect dubble size.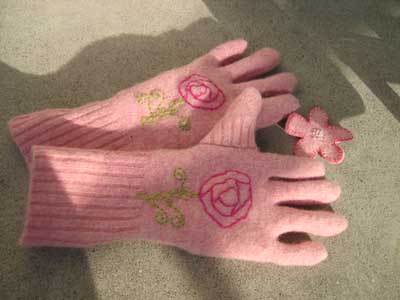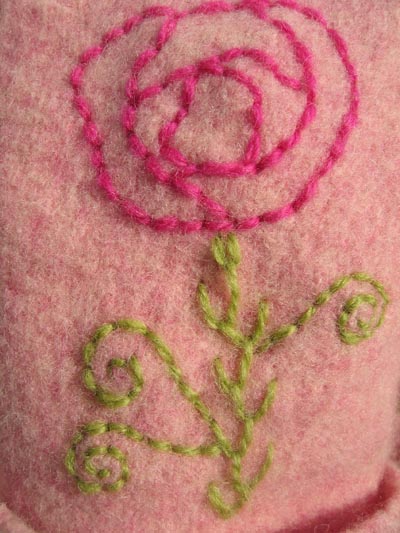 Close up on the embroidered pink rose. Also made free hand with no pattern.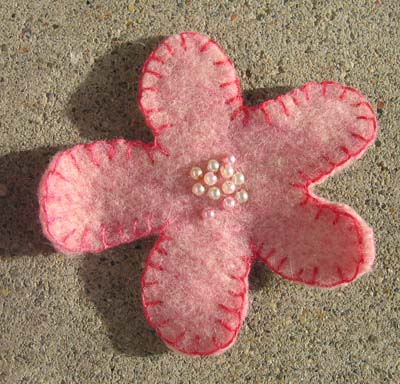 And then I made a little flower brooch in the same wool material. I really like it and want to do more! Fun, fun fun!
So that is how serendipity works when it works correct. And mysterius are the ways of craft.