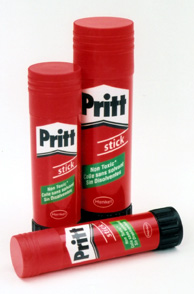 I love my Dymo, my new water soluble oil crayons and all of my note books. I love to own a sewing machine (even thought the quilt I'm working on right now is so difficult to sew since it gets bubbly all the time!) and I love to have access to a digital camera, my laptop and lots of other great tools for creative work. I have had my water colours for years, and couldn't do without them! But if I were to chose one tool right now it would be the glue stick. (And that is because I can't take a picture of my own brain, my all time favorite tool for creativity work…)
The glue stick and I go way back, I remember them from my childhood when my mother would glue all the photos of me into a special album, albums that were made for me and about me. The glue stick is perfect for gluing photos to cardstock, and I've always had them laying around in the house. And since I started making collages… I think I must've finished about 40 of Pritt glue sticks in a year!
Posted for Studio Friday: about my favorite tool.