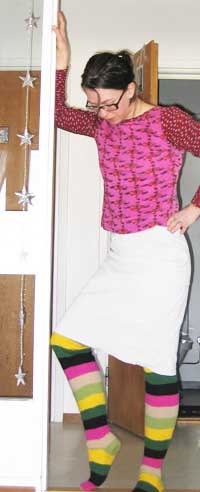 The Very Long Socks are finished!
It's a relief, and I'm so looking forward on starting something new. But it's been fun, even though the knit-a-long maybe made me feel more lonesome (with everyone knitting the same pattern so far away) – than a part of a group… Not the alongers fault, I need to get to know more local knitters!
Here is the sum up:
Yarn: Pure 2 threaded wool i 6 different colours from Gunga Din in Stockholm. Leftover yarn: way too much of each skein!
Pattern: Made by Kelly Griffith and published at Knitty.com. Thank you grrls!
Also see (in this blog): Cellphone cozy that matches the socks! Extra fun: E-mails from Valentina, co-knitter, and from the other girls at the knit-a-long! :-)
About the making of the very long socks: Strange pattern at times, but fun and faster to knit up than expected. There have been some really nice times with these socks!
As expected the socks itch, but I like the colors and they fit perfectly (amazing grace!). They fall down if I don't use garthers, but fortunately I have a home made pair now (made by LäderKen who calls his product "kinky" – I think it is great fun since they will be used on home knitted striped socks… very kinky indeed!).
But whenever will I use them? :-)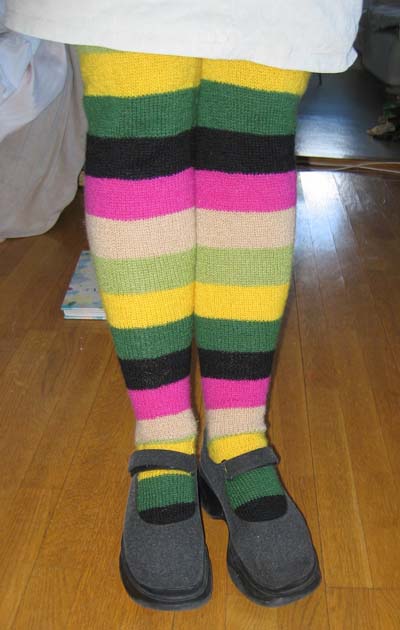 Is this kinky to you? I feel like a anime girl, Sandybell perhaps?