About a week ago I had a date with Marika of Stickeri stickera stickeralla, who calls herself diversifieringens primadonna! She is truly my Knitting Guru Number One! I only wish she lived closer, so I could pop in and ask questions all the time about yarn, yarn shopping, knitting and pattern problems. She took me on a Shopping Tour of Sthlm: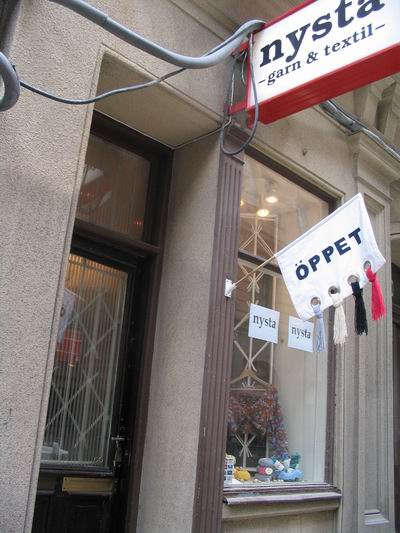 First stop after Hemslöjden was Nysta where we only looked and petted the expensive but very beautiful yarn.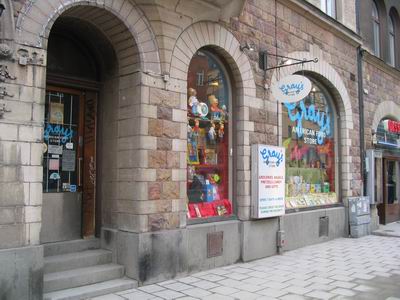 Next was Gray's, the American shop that we couldn't pass by.
Root beer in Sweden
Here is what I got from Gray's: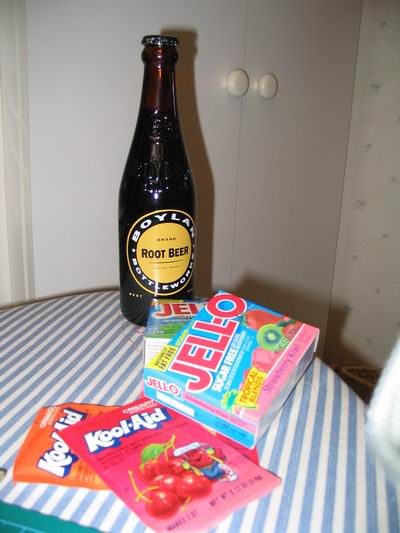 Some CoolAid who some Americans actually drinks (?). I will use it to try to dye some of my white Lovikka yarn.
CoolAid is a permanent dye colour I've heard (yuck! I wouldn't drink that stuff)! Marika said that Jell-O also could be used to dye yarn… I will try it out!
The Root beer (actually I bought two bottles but the other one is already gone) is for me on my birthday now in April.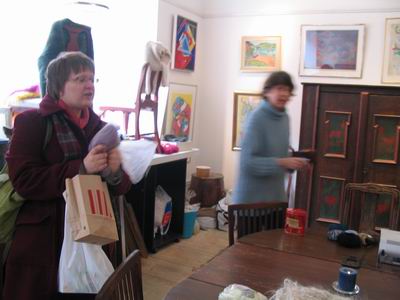 Here is Marika buying purple yarn (or lavender blue as she calls her favorite colour) from a yarn and antique shop.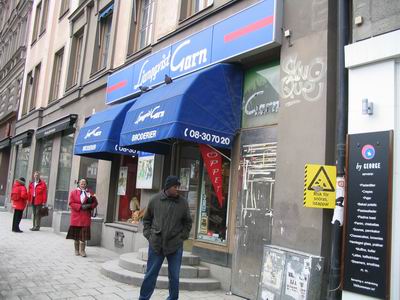 '
Our last stop (yarn wise that is, the actuall last stop was at Ginos coffee where we had coffee and a bun) was Ljungqvists garn – a big and nice shop with lots of DROPS yarns but no homepage!?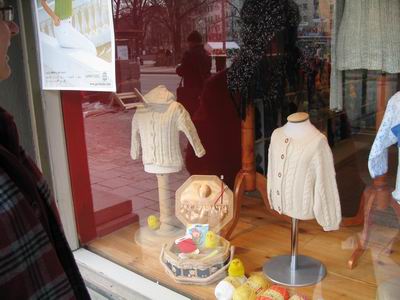 Just the view in the window was tempting…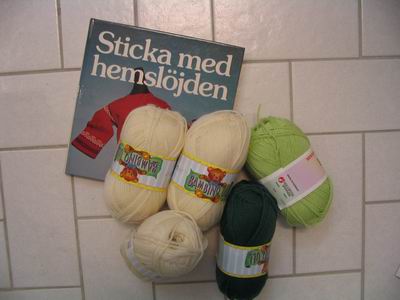 …and the colourful shelves made us both shop. This is what I bought: three white and one dark green skeins of Bambino ull (from id?na) and a light green Baby superwash (from Asa Gjestal spinneri) (all 100 % merinowool) for a striped baby kit that I found in the book Hemslöjden which was a present from my mom. Oh, I want to start this project today!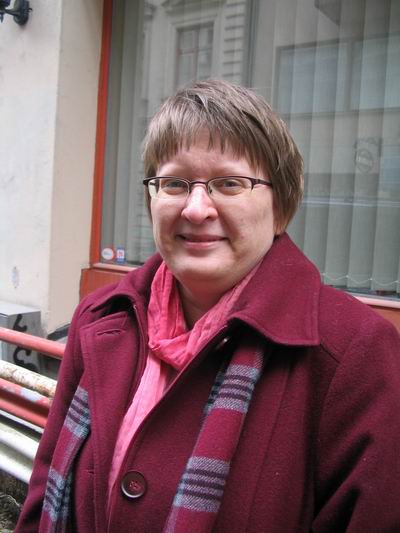 And here is my Guru and Guide for the day!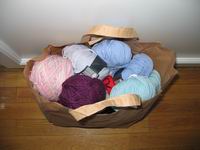 The best part of this day was the bag Marika carried, a gift for me from her enormous stash! She said: When you are a student you can't buy all the yarn you want, so I took some of mine with me for you! A goodie bag full of new and pure nature yarn (nothing else comes into Marika's home, she's got an exclusive taste): merino wool, cotton, z-spun wool, mohair, silk-tweed, flax and all sorts of wool. Amazing grace!