I've crocheted a little pink shawl with a free pattern and a second hand yarn. Yay – true joy!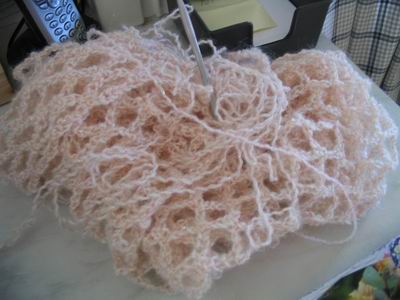 Here is the starting of the shawl, I'm crocheting again and it is fun. At Lady's night Lillemor showed us her beautiful pearl shawl (crocheted for her daughter), and I felt a great greedy need for something like that. She sent us the pattern and by mere accident I found the right yarn just before Easter. So in 2 evenings I crocheted my self a little shawl, much cheaper, easier and fun than my first pink one.
Finished object: a small pink shawl.
Pattern: An easy free pattern Pärl-schal from DROPS!
Yarn: Unused second hand wool/acrylic yarn from Afrika gruppen 10 SEK for 2 skeins, I used 1,1 skein.
Total cost: 5.50 SEK.
Time: About 2 or 3 evenings in front of the TV.
It was fun to make, and I will reuse this pattern for presents to dear girls. It was not possible to use pearls on this yarn, but since it is glam glittering anyway, I didn't mind. My shawl is very small, but I think it is perfect for me: