I've made a fabric basket from old denim jeans. I saw this fun idea in one of my mother's craft books, and I really liked it. To make a basket out of fabric – what a fun idea, especially since we've got so many discarded jeans over here… I want to do that too!
Here I stuffed it full of little things and it works great for storage: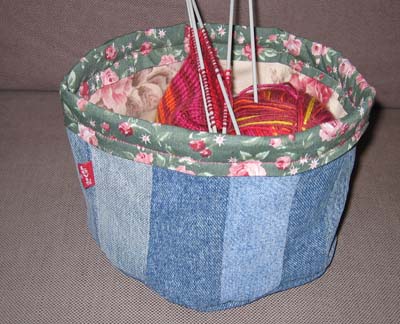 As you can see I tried storing the Regia yarn (and the beginning of yet another sock) in there too. This project is now taking a breather.
How to sew a denim basket
How to make a jeans/denim basket yourself?
You sew stripes of jeans fabric together from old jeans you really can't fit into anymore anyway. Then make a round bottom, using a plate of appropriate size as a guide for cutting. Make sure your row of sewn together stripes fits around the circle. I used a pot for measurements. Then you sew the basket wall together with the basket floor.
Ta-daaa!
I made some lining out of my favorite rose fabric and finished the soft basket with a green edge out of another scrap.
Easy, fun and very useful.
Here is a shoot of the lining from above: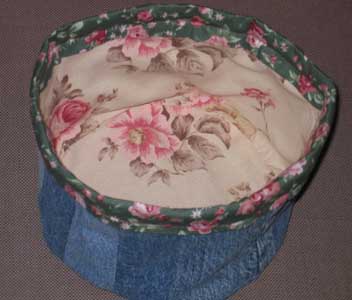 Detail and close up: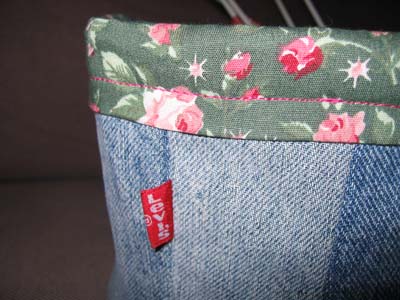 And yes, it's a branded basket in real Levis denim. Tihii.