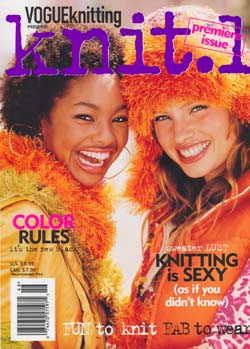 Today I bought a new magazine called Knit.1 from VogueKnitting.
I think I will really like it, it's young and very colorfull, with a lot of cool stuff to knit inside.
When I came home and searched the Internet I could only find what Knit Happens Store wrote, and I agree that it's a pitty they've only used yarns from one brand, Lion brand. Also, the site of Knit.1 is very boring right now. (Here is what others think at Knitters review).
I was looking for a copy of Interweave Knits (coz I've never seen it), but they don't sell that in Sweden! It's a good thing that both Knitty.com and Crochet me are online magazines that you don't have to pay for! Hurray for them!