Today I though I finish my wintergreen sweater, but when I looked closer at the sleeves I saw that the second one is about 5 cm longer than the first one. Rip, rip, rip I guess. But it doesn't really matter, since it is so fun to knit, and fast to. Also read the Stitch and Bitch book for the 100:th time, and decided that since I now have one finished sock made out of a Swedish pattern I probably will understand (or work out) the pattern of Pippi Långstrump's kneestockings in the book (p. 182), that I fell in love with as soon I got the book! I adore striped socks, any style, and these are so great.
But now the question is – what yarn should I use? Any suggestions? The book says "Brown Sheep Company nature Spun Sport (100% wool; 50g/184 yds)" in four different colours, my choice would of course be; Red fox, Peruvian pink, Scarlet and Orange You Glad! Probably my LYS would know to advice me I guess, since the probably don't sell any american Brown Sheep Company yarn in Sweden? Won't it itch?
I also want to make the wrist protectors, soon. After making all this I might even buy the second book (Stitch and Bitch Nation), but I don't think so (didn't find anything to fall in love with at Debbie's site). I just sent a big order to Amazon.co.uk this week, some are going to be Christmas presents but most books are just for me! Yiiie-haaa!
One of the books are This is Burning Man, for P who dreams of attending this festival next year. I'll have to read it too, to find out what it's all about! I would sure like to see this event, sound so… crazy!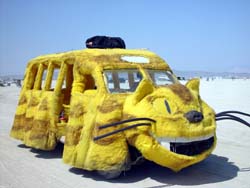 Association chain (follow closely!): We saw the film Tonari no Totoro this year (still recommend it to everyone!) and a cool Cat Coach is what the girl rides when missing their mum to much – and here is my desktop picture since months and months, a real cat bus dressed like this by attendants of Burning Man. Talk about massive work and great handicrafters! Click on the picture to view the coach better – and use it as desktop pic if you like it.

Princess Mononoki
Talking about anime, yesterday we saw the movie Princess Mononoki, translated to English by Neil Gaiman. One of the coolest movies I've seen. Anime is breath taking for someone who grow up with Disney and Barn-TV! It's just a whole new world of beauty. Or like Neil Gaiman said on the movie site:
I thought it was an astonishing piece of work, truly art. It's unlike any animated film, or any film at all for that matter, that people have seen before. The jaw-dropping beauty, the rich water colors, the astonishment of a world of demons and gods all make it a wonderful, cool, magical fantasy. I saw it as a sort of "Star Wars"-style legend set in a 14th century Japanese forest – only instead of good battling evil, the battle is much more complex and realistic.