In the great book Patchwork med bandbroderi (original in Danish) by Anne Baird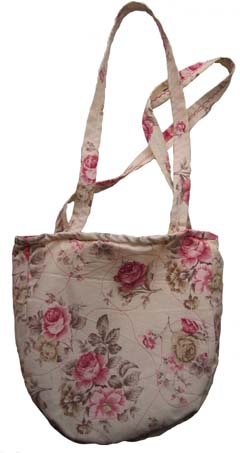 I found a lot of inspiration! The pictures of silk-ribbon embroidery in this book are so beautiful.
At first I was impressed but not at all encouraged – would I ever try to make something as beautiful and complex?
Naa…. But after finding a crazy quilt-pattern in another book and started a bigger project I felt I wanted to try this out! Not to big to scare me to death.
In this book by Anne Baird there was a simple little pattern for a tote bag (in green) that I really like. I decided to make it in pink and white (romantic!) this summer and got a lot of fabric from my mother. Inspired by me my mom made one to!
I didn't see hers until I had finished my own, and they came out really different – but both are great!
Here is mine: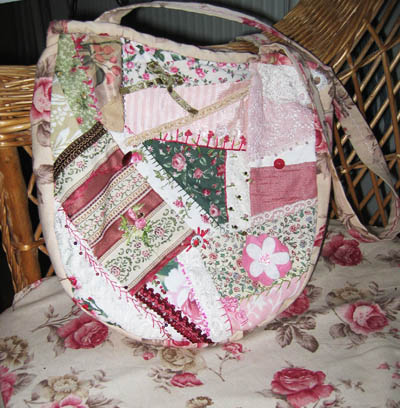 And now a whole bunch of pictures of the details: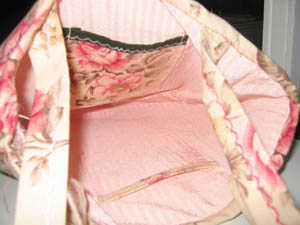 Inside the bag you can see the striped silk lining and the two pockets I put together (no pockets in the pattern).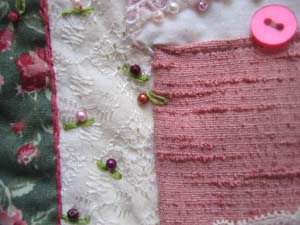 A crazy quilt-thing is put together with a lot of different fabrics, embroidery and some matching buttons.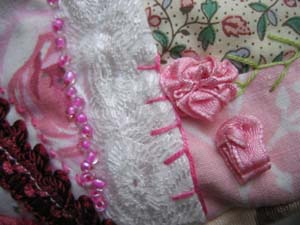 Free form flowers? Hmm…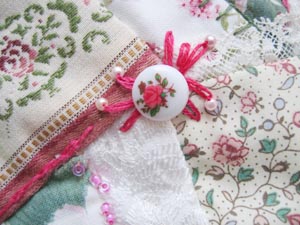 This button is from a knitted cardigan that I wore when I was 8 years old and finished first grade all in white and pink of course. I found it in my mothers button box. Great!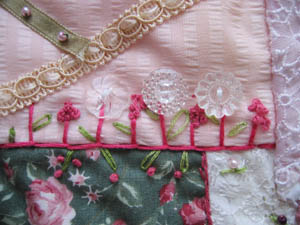 A flower garden of glass flowers!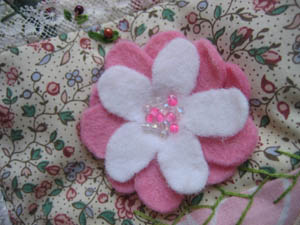 A felt flower that my mother sent me in may found its way to this bag.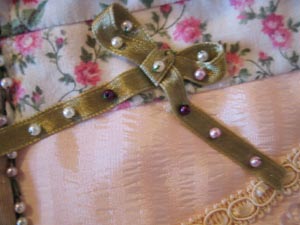 A green boow with pearls on.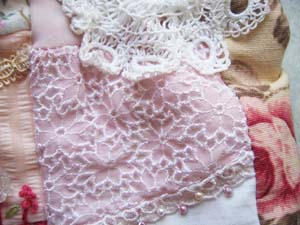 The pink lace on the top of the tote is the sleeve of my great grandmothers nightgown that has been laying around my wardrobe for years.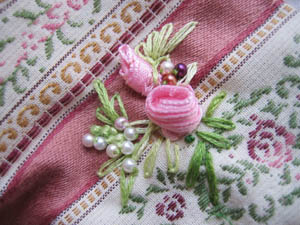 A small bouquet of roses was all that I had the energy to finish this time.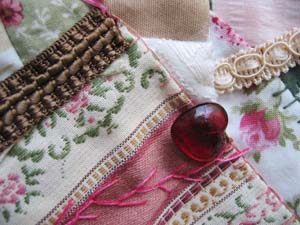 Where did I get this red glass heart? I don't know but I think it fits right on my first handbag or is it a tote bag.
I really like how the whole project came out – it's my first crazy quilt finished object – the needle book I made later this autumn!


Also check out my mom's crazy quilt bag, it's blue. We made them together.