I made a needle book for my mother in the technic crazy quilting, wich I plan to write more about here soon. I made it with fabric scraps my mother have given to me, so the colours and patterns (love em') were no suprise, but so were the gift.
I really like how it came out, as a whole. In this picture you only see the front of it, with some different stitches, pearls and ribbon embrodery that I tried (but my fingers hurt to much from it). I'll try to arange som detail pics later. I really need a needle book myself, all my needles are still in there different packedges, but I didn't find the time right now. I'm reading Il nome della roso this week, and it's keeping my occupied.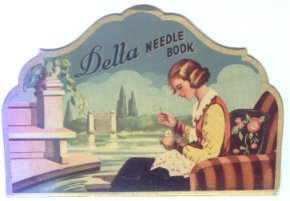 PS: If you want to look at pretty paper packages visit Rosie's Needle Book Museum. Isn't it great that you can collect anything you like? Like napkins. Rosie writes:
– To me they are as beautiful as the "Mona Lisa"! I agree!