Today I want to share my knowledge of how to use text books as journals, so I made a video all about altered books in general, how I use mine, and how you can find a good book to alter, so that you can use it as an Art Journal, Glue Book or any other type of journal or notebook that you like. The sky is the limit here.
Also, free altered book labels at the end!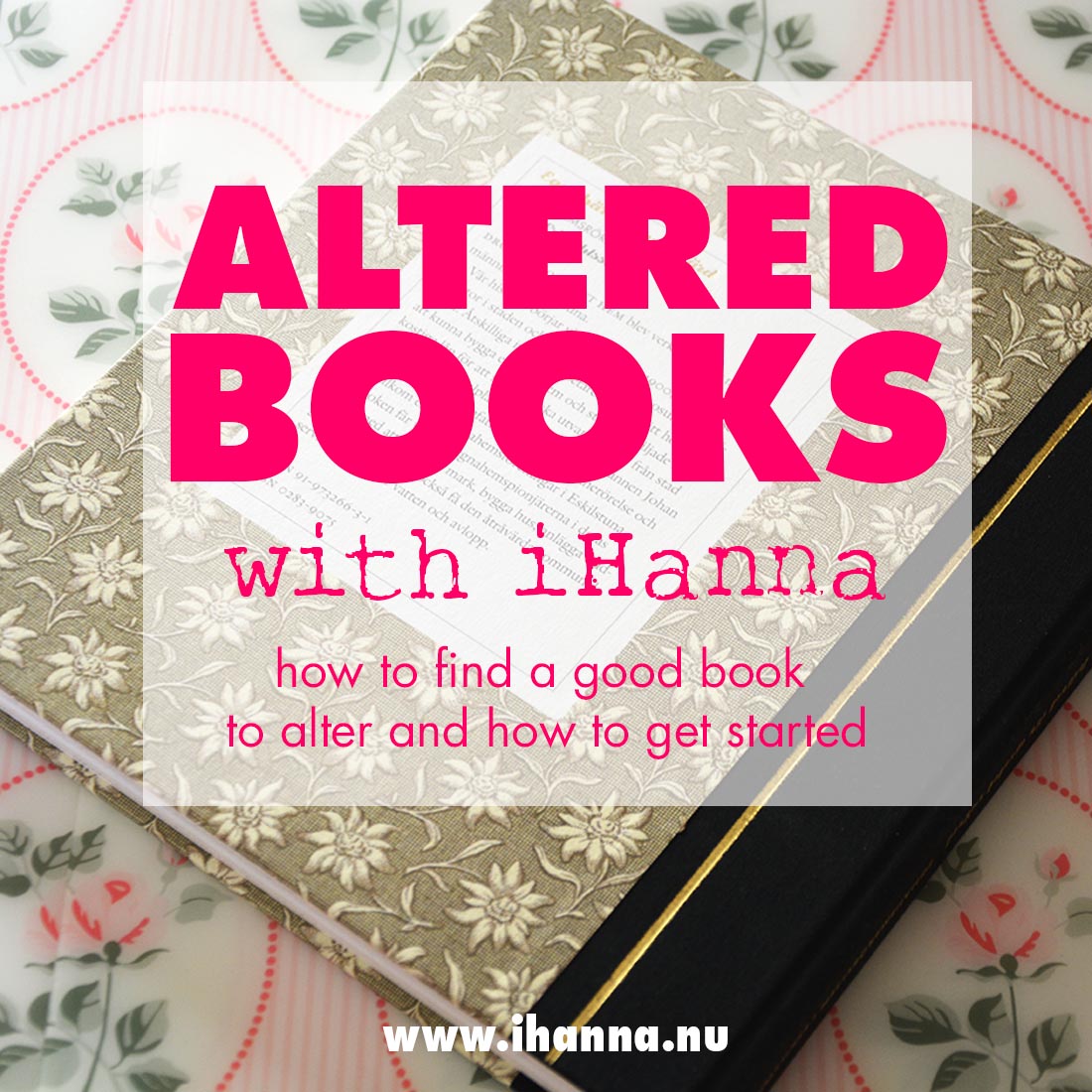 But the first step is always picking a good book to alter, to make sure it doesn't fall apart as you start working in it – and that you have room inside to grow because you will be adding in lots of things into it (paint, collage, ephemera, ribbons, tip-ins, and so on) and you don't want it to bust at the seams (that's just too sad).
So let's talk altered books, shall we?
Video: How to alter a book
So, how do you get started with altered books? Here's how:

This is the book that I am going to start altering/using as my Art Journal: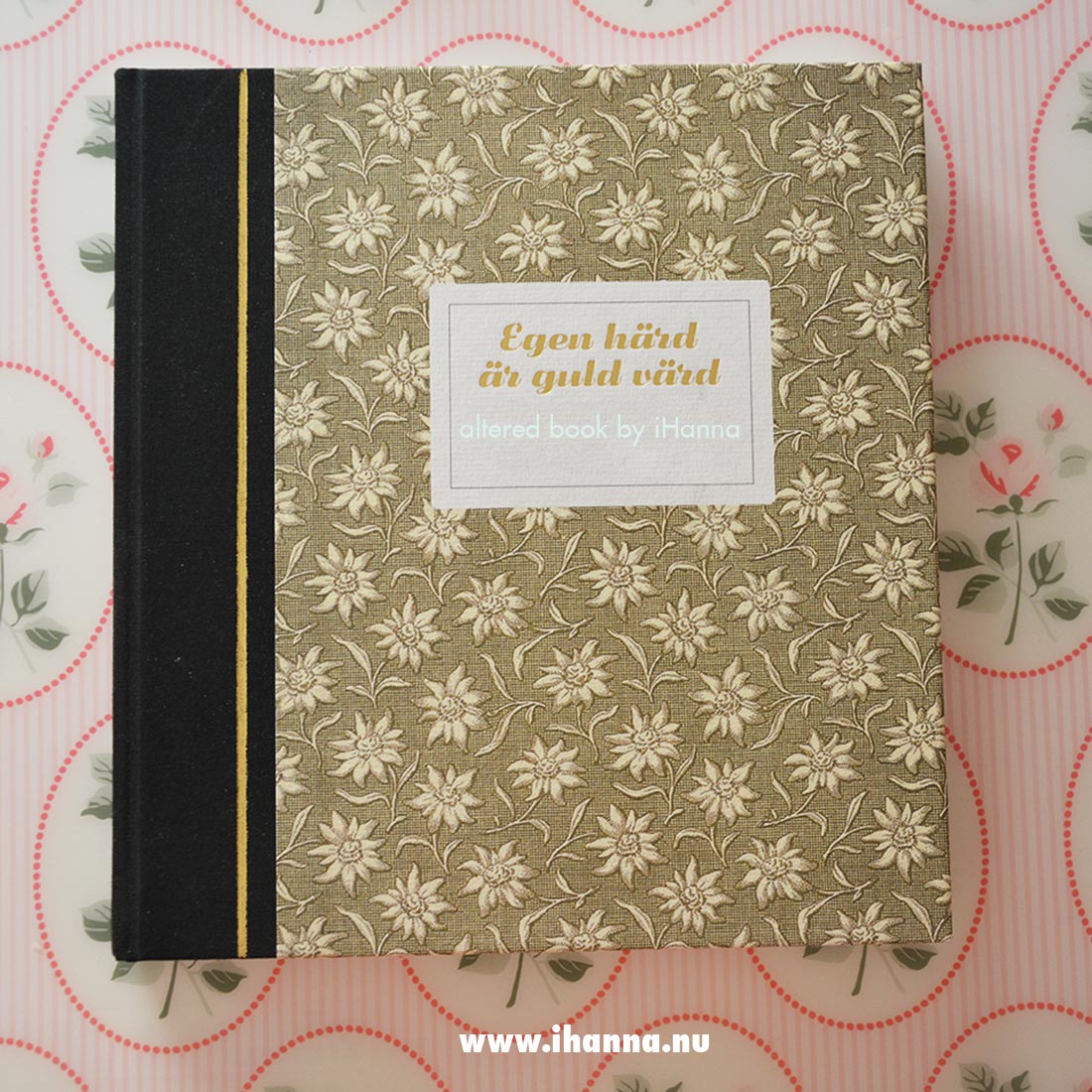 This book is about a municipality in Sweden in old times, and it's called Egen härd är guld värd – which would mean something like "Your own home is worth gold".
I like the cover with the black spine and the yummy patterned paper. I also like this book's size and that it's almost square, the thickness of the inside pages and the illustrated end papers that starts of each chapter and are used as backgrounds for the photos inside it.

Love these pages even before I've started working in the book!
Here are some examples of how my altered books look a bit later in the process:
Altered Book Labels – free download
I was planning to create my own version of the "altered book" label many many years ago, because I wanted to offer it on my blog and now (finally!) because I did promise it in the video, here it is!
If you want a version where you can fill out your own name directly in the PDF before printing it, I've added a slightly fancier version of label sheet in my shop for only 5 USD (and by grabbing that version you also say a small thank you to me for the video tutorial, this content and all blog posts that are available for you free of charge), but otherwise feel free to grab the altered book labels free version here!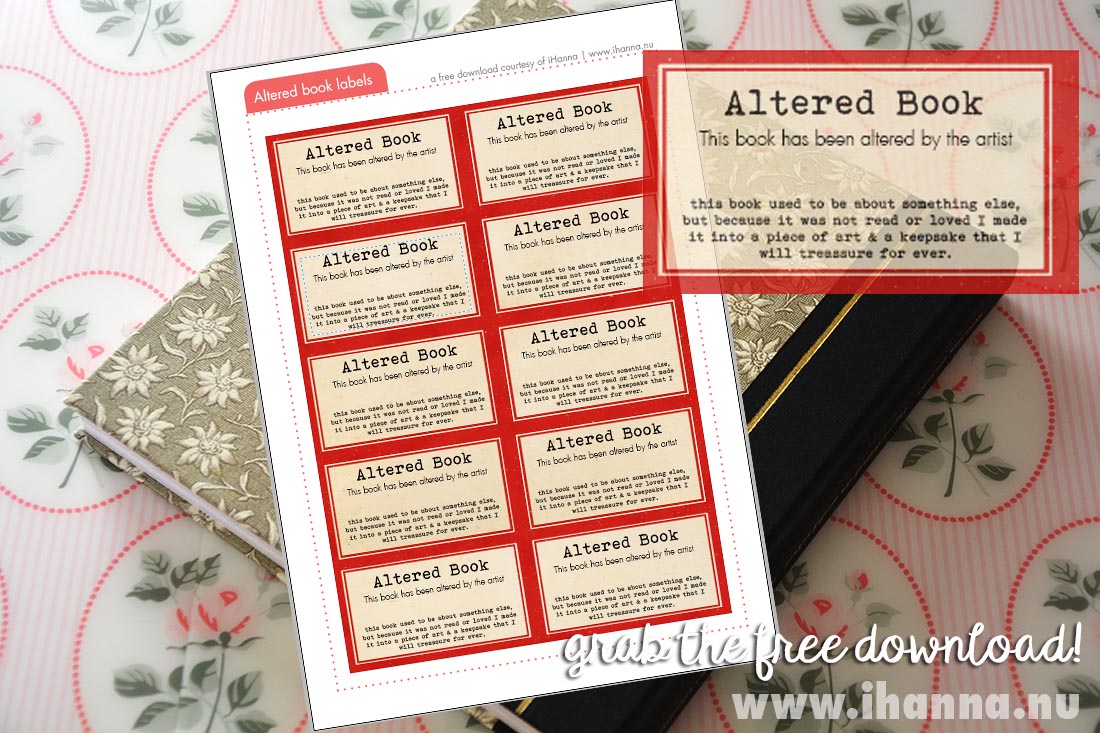 If you want to be notified on more free downloads in the future, and of news in the Studio iHanna Shop feel free to add your name to the Newsletter.
I wrote a well read altered book tutorial back in 2011, that is still worth checking out – but thought it time I do a video about my love of using altered books. Hope you liked it?
It's important to remember that books are not holy and that cutting up old books is allowed! You will not destroy anything un-replaceable (if you're not using a first edition of something very old and unusual that is), but instead create something that you will love a whole lot more and want to look through in the future. Your own Art Journal! Your own thing.
Simply starting on the first page
Let's also start with a watercolor doodle on the first page, here:

Pink paintbrush by Rosemary's Brushes and the watercolor set I use in this video is called Tropical by Prima.

Previous blog posts featuring altered books here.
Let me know if you have any questions or suggestions below. Good luck with altering books / creating journals!