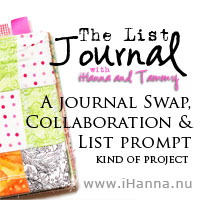 Last week we made a colourful list out of washi tape… Now lets bring on another "material" that I use all the time in my Art Journal; water soluble crayons! The bestests crayons ever is called Neocolor II and today, for the first time ever, it comes in list form!
Want the story behind the List Journal and the fun colaboration that Tammy and I are doing? Check out the intro post and then follow along with our Saturday List Journal prompts. Thanks!
My crayon color list is opposite the tape list on the same spread. Love this colourful spread with fabric that Tammy sewed in!


The spread as a whole is rather telling: the colours I like, I reeeeally like! Pink, lime green, turquoise, red and orange is so yummy together (or one on one).
List prompt #6: Favorite (Neocolor II) Crayon Colours
Both Tammy and I adore the Neocolor II crayons, but you could chose to list favorite colours from your watercolours instead if you don't use these crayons. Or favorite colours of some other crayon brand, pencils, markers, pitt pens, acrylic paint… This prompt has endless playing possibilities!
Here is my list:
Please join us in our creative list-making adventure!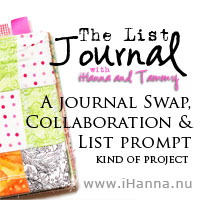 Use this button if you want to play along with us and link to me or Tammy. Next Saturday we'll post the next list prompt! Here's what you do: Just create your list and pop back to this post and add your link in the comments. You can link to a blog post or to your uploaded photo at Flickr. You can do the list any time this week or later, I read all incoming comments and will come visit even if you post your list next month!