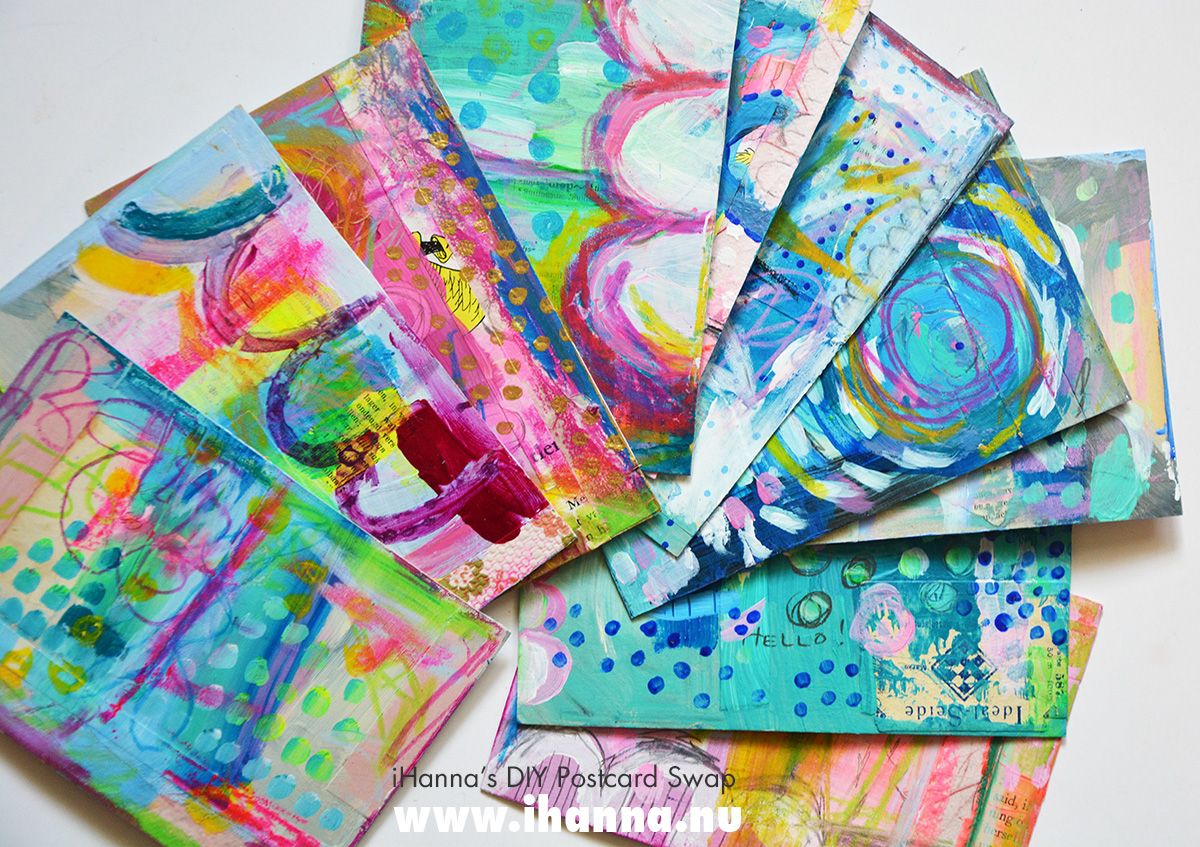 Let me just say that you can still join the DIY Postcard Swap , I'll close it when I wake up on Monday (the 11th of May) and after that I'll start sending out address lists to everyone who has joined this glorious anniversary year! Yay!
Don't hesitate, you can make 10 postcards this weekend! I believe in you, and would love to have you join us.
The worst enemy to creativity is self-doubt.
Sylvia Plath
But today I'm sharing two fun and colorful videos with you, of me finishing my own postcards for the swap. My hope is that it will inspire you to jump in, or simply do something creative for yourself this weekend.
Blue Postcards
If you haven't seen part 1 and 2, it's not required watching of course, but you'll find them in my previous blog post Mixed Media Postcards Layers | Process Video Series, as well as on YouTube. I levitate toward warm colors, but I had fun also reaching for green, black and a lot of different blue colors when creating these postcards.

If you can't see the video above here is the link: Diving into blue Postcards / Mail Art – Let's make DIY Postcards [part 3 of 4].
To be creative means to be in love with life. You can be creative only if you love life enough that you want to enhance its beauty, you want to bring a little more music to it, a little more poetry to it, a little more dance to it."
Osho
Finishing my DIY Postcards
In the last part of the series, I'm making marks and finishing the last couple of postcards I started with collage. They're all pretty abstract, and I could have added more collage or a word or sentiment too, but I'm going to be content with them like this. Sometimes you've gotta know when to stop, and when to finish it up.

If you can't see the video above here is the link: Finishing touches & Mark Making – part 4 of 4 in my process series of creating my postcards spring 2020. You can also save the entire playlist if you want to see them all in the right order, and videos from previous years when I've painted and collaged in different styles. :-)
I hope you like the process videos, let me know!
And like I already mentioned, you can sign up for the swap until the 10th. Yay!