Via e-mail I've gotten a few questions from folks wanting to know: When will your fun DIY Postcard Swap start?
Now I can finally answer: It starts today, right now!! It's time to sign up and start creating postcards!
I would like to invite you, again or for the first time, to create ten (10) original handmade postcards. Everyone is welcome to join, and create at the artistic level that you're at right now. It's a international swap full of color, play and awesome mailbox surprises! I've moved rules & information to a page of it's own (also located in the blog menu above), please check it out and read it through (and link to that permanent page in your blog posts and sidebars). But in short, here is how to join:
Welcome to sign up and note the dates
It is easy and quick to sign up for this swap. To join just follow these simple steps:

1. Pay the fee here.
2. Register to join here.
3. Be ready to send your postcards no later than 14th of November!
I'm giving everyone plenty of time to sign up for the swap, but the best thing is to sign up right away and start making your cards. If they're finished by November 7 (when I will send you your 10 swapper's postal addresses) you can visit the post office right away! :-)
Note the Dates! You can sign up until Sunday November 3d. You will receive your addresses before November 7. Then send out 10 handmade postcards before November 14th. 2013. No later please.
I'm hoping that your response will be something like:
Yay! I'm signing up for @iHanna's DIY Postcard Swap – it's my favorite swap of the year! You should join too! [tweet that]
Why pay you might ask?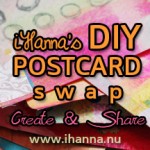 You pay a small fee of 6.00 $ (6 US dollars is about 38 Swedish crowns) to participate. I've found it ensures better participation from those who actually commit! And my swap keeps growing each year (i's now an awesome and well awaited event!) and it takes time to answer questions, distribute hundreds of addresses and stay organized with it all. I, like most others, need to do things that are sustainable to my life. By participating you also help sponsor this blog.
You pay via paypal (use your paypal account or pay with your debit or credit card as a PayPal guest). Once you've sent money to my account you will be directed to a sign up-page where I will need your full name, your full postal address including country (!) and of course a working email-address! Please make sure you write you email correctly, or I will not be able to send you your 10 swap addresses when the sign-up period ends.
A warm and heartfelt thank you for your support!
Spread the word by telling friends and family
Tell your friends that you've joined the swap, by email or posting about it on your FB-page. Then they get the chance to join too! I usually get my cousin, mom and a few friends to sign up, why don't you invite yours too? If they don't read this blog you can just ask them if they are interested and help them get signed up – just make sure they know the dates + rules of what they sign up for. Spread the word; you're welcome to link here, share this post on FB, creative groups and forums, via twitter (Ping me, I'm @iHanna) or write about the swap in your next blog post or newsletter. You could even add one of the swap buttons I've designed to your sidebar – please link it to the information page! ♥ Thank you for so much for helping me and spreading the word about this swap. The more the merrier, right?
Thousands of handmade postcards are made – to celebrate creativity & happiness! [tweet that]
Please remember to use the hashtag #diypostcardswap when posting images to your social media favorites (instagram, twitter, flickr, etc). Don't link the swap button to this post, but to the Swap's home information page, thank you! Swap buttons on the info-page too.