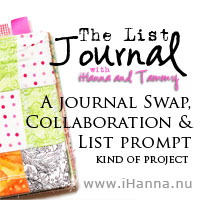 It's Saturday and time for another list prompt in the List Journal. But can you make a list out of anything?
Want the story behind the List Journal and the fun colaboration that Tammy and I are doing? Check out the intro post and then follow along with our Saturday List Journal prompts. Thanks!
List Prompt #5: Washi Tapes I Use All the Time
I love patterned masking tape, a.k.a. washi tape! Love it! Here are my favorites, in a "list":

Solid neon pink is my number one! All of them are sticking up at the top of the journal – love that!
What colours and patterns are on your list? Ore are you still holding up against getting any tapes and starting a collection? If you want to join just create a journal page, post it to your blog and then let us know where we can see it (and maybe where we can buy those tapes? Or… hmm, rather not. It might be dangerous for my wallet!).
Thanks for visiting me. Also check out Tammy's post The List Journal Project: Tape!
Be well!