Shopoholic, who me? Schy! Don't tell my mom that I've been shopping more fabric!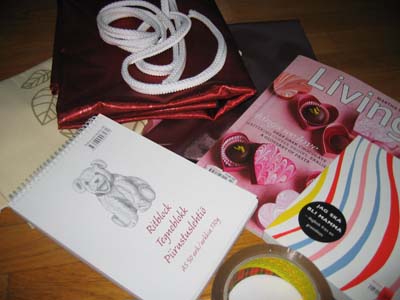 After working a couple of hours at my father in laws gallery shop selling paintings today I went to town and did a shopping tour through our little town. At the biggest fabric store in town it was 70 % off at some beautiful fabrics that I just had to buy, one in dark red "silk" with flower ornaments on.
I also got a sketchbook thinking I might pic up drawing, it looks so easy when some people do it. Maybe it doesn't have to be that complicated with authentic looks, shadows and perspective in everything?!
At the newsstand I picked up my first copy of Martha's Living, which had an article about marbleizing paper! That is one cool way to get great paper! Have you tried it? I did some back in school, but it was a long time ago.
Also got a copy of a Swedish book called Jag ska bli mamma by Karin Milles for a friend. It's a humorous and interesting book about the nine months that Karin is pregnant. I recommend it!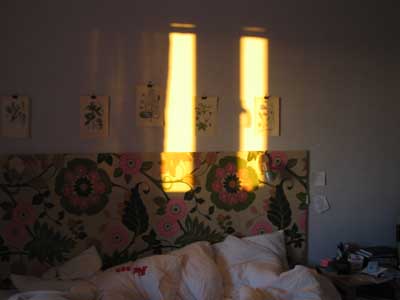 Believe it or not. This is our bedroom in the afternoon when I came home – the sun is looking in after a long winter break behind the neighboring house! Hurray!