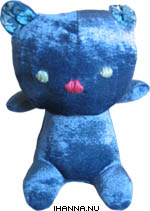 When my mother was visiting she helped me interpret a japanese pattern so that I, with my limited experience in sewing, could put the peaces in the pattern together correct. The result was Mr Bluebear, with no real purpose in this world other than to be cuddly.
This weekend I gave him eyes and a pink nose, I forgot him in my last entry!
I hope he is just the first in a bunch of cuddly cuties, so that the next time I can make the ears and nose somewhat different and more to my liking. But still now, I think hi is cute and almost what I expected to come out of the pattern!
Some more pic's of this darling: