Det h?r ?r ingen stickblog (som s? m?nga andra bloggar ?r). Min blog skulle aldrig kunna bli en stickblog eftersom jag tycker s? mycket ?r s? roligt. Splittrad, ja visst. Det ?r just i ?r som mitt kreativa handarbetsintresse expanderat n?stan till sin maxgr?ns. ?r 2003 stickade jag inte en enda grej och hade inte en enda tanke p? att k?pa garn. D? s?g jag inte ens garnaff?rerna i stan!
Nu (sedan februari i ?r) har jag stickat, virkat, ?rvt en symaskin, b?rjat samla tyg och l?rt mig tv??ndsstickning. Jag har k?pt massor av sm?p?sar med p?rlor, b?rjat brodera och samlar svart tyg till ett lappt?cke. Jag har sytt gardiner, decouperat, m?lat, skapat denna blog (som v?l n?rmast ?r en pyssel- och handarbetsblog) osv. De som k?nt mig tidigare ?n 2004 undrar kanske vad som h?nt, och jag tror det ?r m?nga olika faktorer som p?verkar i positiv inriktning. B?ttre balans i livet t.ex.
M?nga undrar hur jag hinner med allt roligt skapande, nu senast Tina i Australien (heeeej!). Jag ?r student och ska fr?n och med idag skriva min C-uppsats, vilket ger mig m?nga stunder per dag att sm?pyssla mellan l?sning. Annars m?ste jag svara med Daniel Pennacs egna ord:

Om man betraktar k?rlek ur tidsplaneringsperspektiv – vem skulle d? ta sig tid att ?lska? Vem har tid att vara f?r?lskad? Men har man n?gonsin sett en f?r?lskad m?nniska som inte har tid att ?lska?
Jag har aldrig haft tid att l?sa, men ingenting, absolut ingenting har n?gonsin kunnat hindra mig fr?n att l?sa f?rdigt en roman som jag tyckte om.
L?sandet ?r inte avh?ngigt planeringen av ens sociala liv, det ?r, liksom k?rleken, ett s?tt att vara. Fr?gan g?ller inte att ta reda p? om jag har tid eller ej att l?sa (tid som ingen f?r ?vrigt kommer att ge mig), utan om jag unnar mig lyckan att vara l?sare – eller ej.

(ur Comme un roman).
Den man ?lskar hinner man alltid med, det man ?lskar m?ste man hinna med. Vem ska g?ra det du vill om inte du har tid? Du har bara ett liv! Vardagen ?r bara trist vardag om du inte hinner titta upp och se solskenet, d? f?rvandlas livet till n?got vackert – hur mycket du ?n har att g?ra, tycker jag.
F?r vissa ?r stickningen det allra viktigaste. F?r andra ?r det skogspromenaden, kl?ttringen eller barnen. F?r mig ?r det b?cker. Att l?sa b?cker ?r min stora passion i livet. F?r mig ?r b?cker avkoppling och ?ventyr p? samma g?ng, vad mer kan man beg?ra?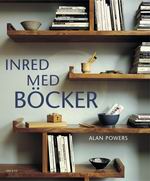 F?r alla som h?ller med mig om att b?cker ?r b?st rekommenderar jag Inred med b?cker av Alan Powers som kom ut p? svenska nu i h?st. Go get! Inspirerande med massor av bilder av vackra biblioteksbilder!
In english: This entry is about my love for books, and I'm recomending a great book called Living with books by Alan Powers.
Read and enjoy – is truly inspiring!