Dear all,
I hope that those who celebrate had a nice Christmas holiday? And that everyone else survived the madness. I feel a bit silly coming in with this post today, after Christmas. It was meant to go out on the 22nd, as it contains my Christmas journal video number three, and it was filmed in the beginning of the month. But the week before Christmas Eve is really short, you know? I just didn't find the time to post it, so I'm doing it now. Better late than never, right?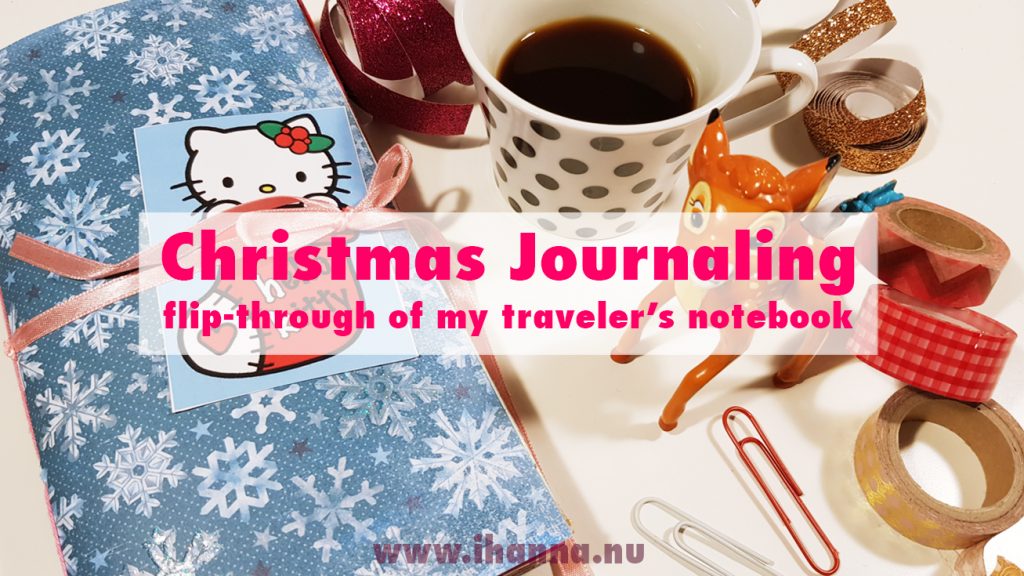 In part three of this video series I am finishing December 5 and then flipping through my now bound together traveler's notebook junk journal. I wanted to record how it looked all bound together and nice, ready for all my days. Since then I've of course almost finished it, and it's only the last couple of days before Christmas Eve left to add in. I think I'll do them this weekend.
But if you don't mind, here's the video. It takes a long time to film, edit and create these, so I wanted to share it even though it's not going to inspire anyone (this year) to start a Christmas journal, but hopefully my previous videos has. Or it makes you want to do some cut and paste, maybe? Or in a general creative mood. That's what I'm aiming for here.
December Daily Notebook Flip-through

If you can't see the video above click here: December Daily Flip through + Christmas Journaling
I also finished another video for my youtube subscribers, that I thought you might enjoy as well. It's just a quick flip-through of one of the spiral bound Christmas journals I made a couple of years ago. I think I filmed this back then, but now I edited it together and made a voice over to talk a bit about the pages. I hope you like it as well:
Christmas Journal with Spiral binding

If you can't see the video above click here: Christmas Journal | Flip-through of a spiral bound book. Also, don't forget to give the video a thumbs up and subscribe to my YouTube channel. It really does help over there to boost the views.
Christmas journaling videos
Here's a list of the previous videos in the journaling series this year, and a link to the whole playlist on YouTube, in case you're catching up too and need some company!
You can watch the playlist here, it contains nine videos. Just hit play, maximize the player on your screen and lean back with your Christmas beverage of choice. Bring out your crafting supplies and let's get started with the merriment of creating.
CHRISTMAS JOURNALING PLAYLIST

xoxo
/Hanna