Studio Friday: What was I thinking?
In January 2006 we have lived in our apartment for two long years. When I moved here I didn't own much craft supplies really (as you might have read earlier), but during the past two years that has really changed a lot. Now I have a stash of everything it seams. Bigger and smaller, but growing and expanding every day. But with just two rooms the NO studio has grown and the clutter/mess too. All around the house.
And then when my mother was visiting we noticed that the bedroom is huge, and that there would be room for a craft corner for me there. I was so exited I just jumped around, but had to wait until we found a desk to start to organize it. I don't know what I was thinking before this, but now it was so obvious what should be there. So out went the bookshelf and then there were plenty of room for a thrifted desk (50 SEK), my pink craft shelf and P drilled a IKEA shelf to the wall, it framed the desk just perfect + he hung a spot light under the shelf (thank you honey!). To me it's magic!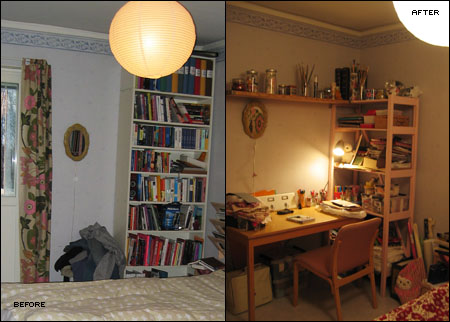 Before and after. Why didn't I think of this earlier?
I really can't believe it, even though I can see it. It's a dream come true, a craft corner just for my stuff and me!
Today I printed the Studio Friday article about How to organize your studio better by Lee Silber, and read it thoroughly. And it really fits neat in with my thoughts about my new craft and art space in the bedroom. Because now I can craft where I keep my papers, yarns, fabrics and paintbrushes.
I don't need to drag everything out from the cupboard and room around for stuff.
I don't need to clean the entire house when we have guests coming over!
I can have projects where I can see them.
I can have a living room that looks like a living room and not kindergarten!
I have a desk that is all mine with no computers or digital stuff around.
and about a thousand other benefits I think I will find out in due time.
Some Christmas links too this Friday:
Have you turned the Christmas lights on yet? Here is somebody crazy and wild that has.
Happy weekend!