Jorun in Luxemburg is writing her blog, Life de Luxe, in Swedish. I mostly read her Knitting blog wich is in English. Jorun was asked to answer some questions about bloging for Swedens biggest evening newspaper, Aftonbladet. And she mentioned me in the article!
I was also asked to tell the story of my blog, but to the local paper where I live. I was interviewed by Monica Nilsson, summer working journalist at VF, writing about special and interesting people this summer! She's interviewed local people with fun jobs, hobbies and thoughts. And me! Here she is: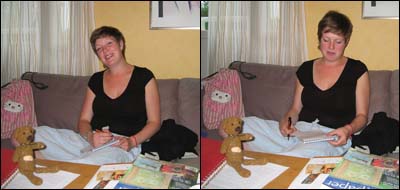 I don't know if anybody read the article in the paper (you can find it online), but I think it was quite nicly written even if there were some missunderstandings in it. I did hesitate to agree to be interviewed. I do not seek fame, like Monica wrote. I seek kindered spirits, like fiction/writer Anne at Green gable would have said. Blog world is a private sphere for me, where I put down my thoughts and give of my self to other artists and crafters, try to inspire and get inspired my self.
I find it difficult to imagine that everyone can read this text if they find it – and of course they can – it's on the internet! Writing on the internet is a jump out to the unknown. Inviting non-bloggers and even non-creative to this is scarry. They might think my stuff is ugly, strange and/or stupid. Visitors might be people you've meat or will meet someday. And now they will know some (a lot!) of your thoughts, and you don't no nada about them! It's a bit scarry, don't you agree? But as a writer (and aspiring journalist my self), I have to try.
You give from your heart; you give some of yourself, your time and your energy. But I've found it's worth it – still.
Read Monica's article below (in swedish). And please comment, tell me who you are and why you write/don't write.
The article written by Monica Nilsson:
Hanna Anderssons blogg ?r kreativ och annorlunda.
? Jag s?ker inte ber?mmelse, jag s?ker medm?nniskor, s?ger hon.
Det b?rjade med att Hanna Andersson letade efter inspiration och information till sitt pysselintresse.
? F?rst hittade jag n?gra bloggar om stickning, och sedan andra, om konst och om collage.
Hennes senaste inspirationsk?lla ?r en blogg om collageb?cker. Hon plockar fram sin egen bok och visar sida efter sida d?r tidningsurklipp, m?larf?rg och tygbitar bildar annorlunda collage.
Bevis p? skapandet
Hannas egen blogg har funnits i 1,5 ?r. D?r kan man bland annat l?sa om loppmarknads-fynd, se nystickade sockor och kommentera den senaste sidan i collageboken. Hon har bloggen f?r att hon tycker om att skriva, och f?r att dokumentera det hon g?r.
? N?r jag k?nner att jag inte utr?ttar n?got, kan jag g? in p? bloggen och f? bevis f?r att jag faktiskt skapar, s?ger hon och ler.
F?r Hanna ?r det skillnad p? dagbok och blogg. I dagboken skriver man om sin dag i allm?nhet, medan man p? bloggen skriver om ett ?mne i synnerhet.
L?nkar, bilder och en m?jlighet att l?mna kommentarer ?r annat som Hanna tycker ska finnas med p? en bra blogg.
I soffan sitter den virkade bj?rnen Robin, som kommit till v?rlden genom att Hanna via Internet inspirerats av japanska virkade djur s? kallade amigurumi.
? S?ker man p? amigurumi p? google uppt?cker man en ny v?rld, s?ger Hanna.
Och tittar man p? Hannas blogg kan man f? se Robin p? sommarpromenad i Ume?.
Robin, som kom till tack vare Internet, finns nu p? Internet f?r att inspirera andra.
Kort utbyte
En annan form f?r skapande som Hanna uppt?ckt p? Internet ?r ATC. Det st?r f?r Artist Trading Cards och inneb?r att man formger ett litet kort p? det s?tt och med de material man vill.
Med hj?lp av mailinglistor kan man sedan g? med i ATC-utbyten, s? att om man skickar iv?g 10 sm? kort, s? f?r man snart 10 andra kort fr?n hobbykonstn?rer i hela v?rlden i brevl?dan.
? F?rsta g?ngen jag var med i ett ATC-utbyte v?ntade jag l?nge p? att f? n?gon post. N?r jag n?stan gett upp b?rjade det dimpa ner kort i brevinkastet, fr?n b?de Nya Zeeland och Asien.
Hanna ber?ttar att hon pysslar fr?mst f?r att det ?r roligt. Men det handlar ocks? om tillfredsst?llelse.
? Har jag inte pysslat under dagen k?nner jag att jag saknar n?got n?r jag g?r och l?gger mig.
Och Internet har gjort att pysselintresset f?tt n?ring och v?xt sig starkare.
? Man m?ste titta sig om i v?rlden f?r att hitta det man letar efter. D? ?r Internet v?ldigt bra.
L?s bloggen p? adressen www.ihanna.nu/blog!
MONIKA NILSSON