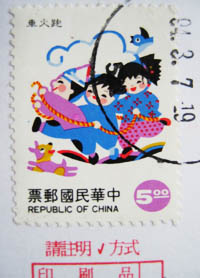 Today I received a little parcel full of old invitations and Christmas cards from my friend Inger who works at the Swedish Trade Council in Taiwan. Dragons, roosters, beautiful Chines writing, flowers, thick red paper with ornaments… I like everything in there a lot and will try to cut into it and use it in my art journal… even though it is almost too pretty to destroy.
My favorite paper piece is this simple little stamp that was used on a narrow envelope, with three happy children playing with their dog . And a blue bird – it is so pretty! And not that old: The Republic year is actually 94 – right now.
This stamp cheered me up a bit on this cloudy day. This morning the snow was falling and still now, the sky is gray, like my mood. On TV they are broadcasting the perfect show for me today to glance at, it's Johannes Paulus funeral.