A post about my new tape measure and my "leftetover" vest that I started knitting just before Easter!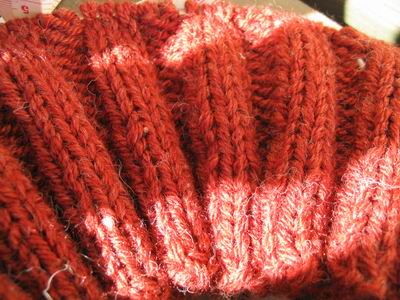 Remember the yarn I bought recently? I posted about it the other day, and the second row is already assigned to a special pattern from this winters Knitty (haven't found anything to fall in love with in the Spring Knitty, but I might later). I got a skein of rust brown yarn from my Grandmothers Secret Stash (via mom) that is going to be the "wristlet" of the vest, like so: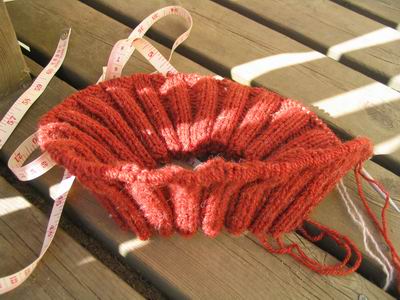 I'm knitting this on circular needles for the first time ever. I enjoy it a lot. In the beginning I thought, hey, I'm never gonna finish this, just one lap takes for ever! But after knitting a while I noticed the fun thing about knitting with circular needles (and I guess most of you knitters out there already know and like): when you finish a piece for a sweater you have done both the front and the back at the same time – and there is no need to sewing it together! What a treat!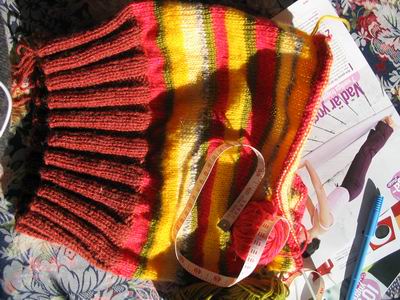 Here is how the stripe pattern will look. I started this project before Easter, but didn't finish in time to wear this green-pink-yellow-thing at Easter (this year), but I hope it will be a year around wear instead. It is all favorite colours to me!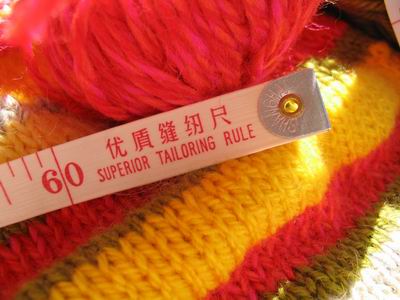 Since the pattern gives you all the measurements in inches, I borrowed a tape measure that has inches on one side and centimeters on the other side! Super smart! I was so happy about it that mom gave it to me. I think I will use it a lot when I knit English patterns.
The colour of the skein above is my favorite for this vest: It's a mix of orange and neon pink – way cool!