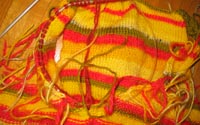 Can you imagine how many threads there are to affix in a striped multicoloured slipover like this? Many, I promise!
But now it's finished and today I wore it for the first time, checking out the university, our fridge and a coffee shop in town, with a friend. Plus, I found a new store! Have you visited Village? They have lots of nice stuff, I will have to go back soon to get some of it (maybe for the balcony?).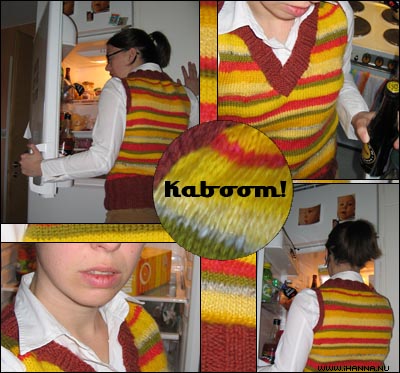 Kaboom! Here it is – on me! I'm proud and very pleased.
Knitted leftovers Slipover
Some details about my slipover/vest
Pattern:
Leftovers at Knitty.com (free pattern!) by Alison Hansel (thank you!)
Cost for yarn:
About 65 SEK I think (had to buy a skein of wool in green for 30 so that added up some to the cheap other yarns)
Making it:
Fun, fun, fun! If I make another one, I will make it a little bit smaller, but otherwise I liked making this. I liked using round needles, different favourit colours, making the stripes up as I went along… And liked wearing it today when the chilly winds came back to town. Where did spring go?
Do I look like an Easter Chicken here? Hmm…