I updated our Dear Photo Diary today and found this picture of me from last week when I made a pink ball of yarn of the hank of wool I bought. It's intended for a pair of mittens (my first ones ever, hopefully soon to be):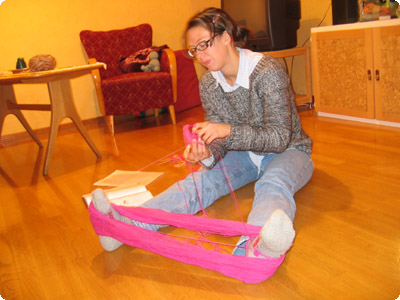 Yesterday I did som KIP:ing, as you can see here: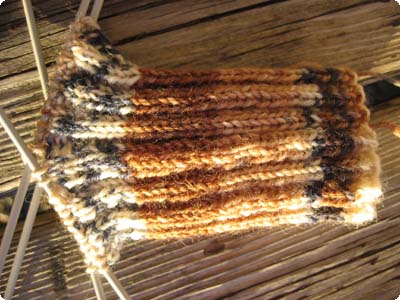 KIP – Knitting In Public
KIP is short for Knitting In Public, according to the book Stitch 'n Bitch, who also explains acronyms like
SEX = Stash enrichment expedition
WIP = Work in progress
and
LYS = Local yarn store.
The KIP I did was in the sun close to the river after I had coffee with some friends in town. We talked so much that I forgot to knit when I was with them… Great!
The WIP on the picture above is the shaft of the second sock of my life. The first one is still only a shaft, but at knitting class tonight (yee-ha!) I hope to learn how to make a heal. The yarn is Opal Magic (75 % wool and 25 % polyamid) from Britt Andersson in brown, blue and white.
I also updated the book department of this site today, trying to keep up with the piles of books that fill my room. Where to begin?
So much fun to do, so little time… No time to complain either, lucky me.