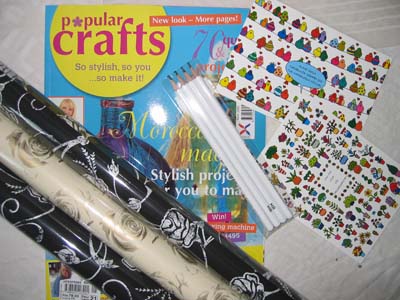 This is what I bought at åhléns when I was in town yesterday. I'm allways looking for nice wrapping paper (for presents or projects), but find it hard to find patterns I really like. So when I saw these I got tree rolls! Also in the picture are some white pencils and two different cards (one for my wall and one for dad's birthday).
I also bought the May issue of Popular Crafts. Have you read it? One knitting pattern, some card making, scrapbooking basics, decorationg, a short articel about ATC's (Super Sparkly Decos) and a little bit of this and that. Not really my thing I think, but I could make a jewellery cuff (with buttons and pearls around the wrist – nice!). The other projects were to me too ugly and borring.
I'd like to get a inspirational subscription soon, but I just can't make my mind up! Any recommendations? What do you read? I found a link to Cloth Paper Scissors magazine, and that seems to be what I'm looking for (not avalible in shops in Sweden). I think I'll get a subscription. Have anybody read it yet?
Or do you buy anything from Stampington? The Somerset Studio magazine looks nice on the web… Any good? It's about mixed media stuff – my favourit new words!