You might not know that today is International Day of Happiness, because it is a new idea. It was established by the United Nations General Assembly on 28 June 2012. They said that the pursuit of happiness is a fundamental human goal, and I agree with that. It sure is a fundamental goal in my life, one that I work on and for every day. It doesn't always come easy, but when ever it is possible I try to enjoy life and be happy about the stuff that is creative, good and beautiful.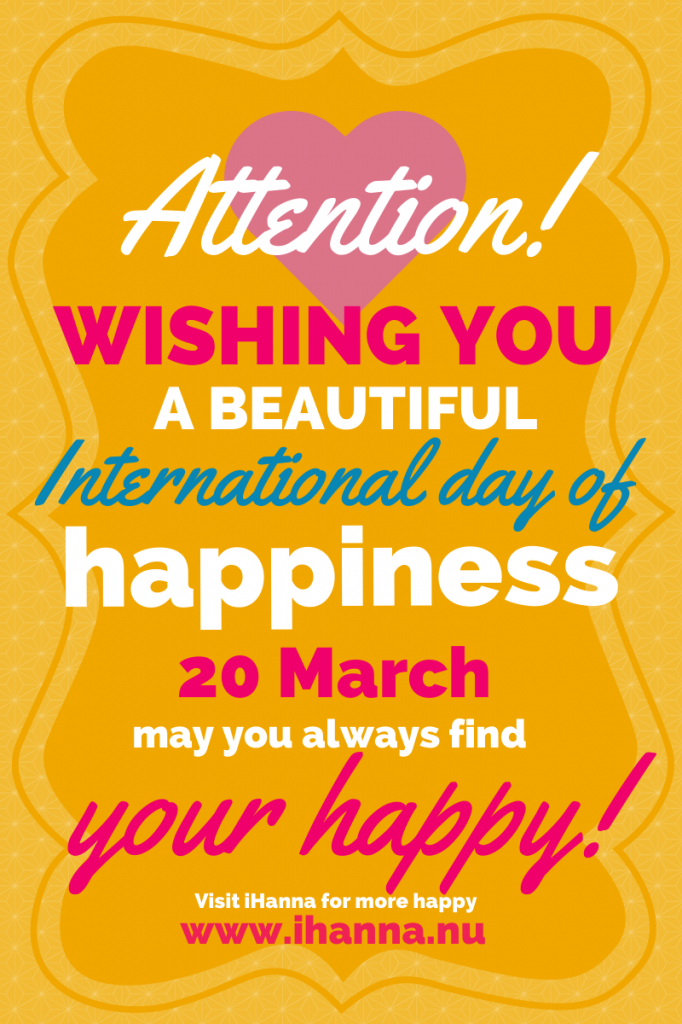 I often share the various sources of my personal happiness here on the blog, and sharing in itself is one of those sources. That's why I made this poster for you guys! Feel free to print it, pin it, or share it with your friends to spread the happiness further!
If you want more happiness in your life, you must act upon it. Psychologist Martin Seligman asserts that happiness is not solely derived from external, momentary pleasures, and provides the acronym PERMA to summarize Positive Psychology's correlational findings (this according to wikipedia).
To consider on International Day of Happiness
We humans seem happiest when we have:
Pleasure (tasty food, warm baths, etc.),
Engagement (or flow, the absorption of an enjoyed yet challenging activity),
Relationships (social ties have turned out to be extremely reliable indicator of happiness),
Meaning (a perceived quest or belonging to something bigger), and
Accomplishments (having realized tangible goals).
I think PERMA is a good reminder of what we need in our life. And if one of these is missing in your day or week, to work on that area!
Creativity makes me happy, especially when there is creative flow. Or maybe it is the other way around… It's not always easy to know what comes first, right?
Sometimes your joy is the source of your smile, but sometimes your smile can be the source of your joy."
Thich Nhat Hanh
Oh, and even though we've got snow here it is the spring equinox today!
Wishing you a Great International Day of Happiness! May you find a way to smile, and to smile along the way.
If you want me to send you some more things that can make you happy, for example printable quotes for inspiration, sign up for my mailing list ASAP. It's all about happy news, projects and free stuff.