What a poignant delight!
It's here. See that, it's my hand holding my copy of this awesome book! I bought this thick beautiful book,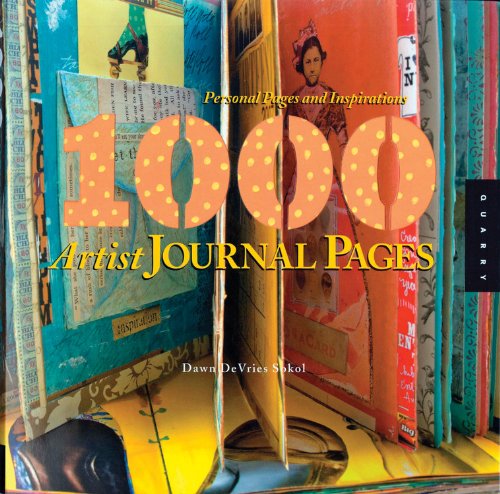 1,000 Artist Journal Pages, from Amazon in the US, and I'm probably the last one to see this book "in the flesh". I don't think I've ever waited this long for one single book to first be published and then to arrive into my loving arms. But now it's here and I think it is so beautiful!
Well done Dawn, it's perfect!
If you haven't seen this book already but you are into this sort of stuff (art, writing, creativity), I think it's a must-own-book because there is so much to look at, many talented artist and a big range of diverse styles. It may not be possible to borrow it just for a while and then return it I think (you'll want to keep it!). You can browse through it rather quickly, sure, but you'll never be "finished" or able to take in everything.
The details about the new book 1000 Artist Journal Pages:
Full title: 1000 Artist Journal Pages – Personal Pages and Inspiration
Layout by Dawn DeVries Sokol
Published by Quarry Books in the US, July 2008. Paperback.
Dimensions: 9 x 9 inches big!
This chunky book has +300 pages with very little text but very many (1000!) pages (though some are spreads that counts as two pages). You can also read what the artist has written and journaled about. My brother was proud to be mentioned in one of my pages, though I noticed all "my pages" are in Swedish.
Some of the 1000 artist journal pages are mine
I'm published in it, did I mention that? Yes me! I didn't know that the number one thousand on the cover was cut out – isn't that nifty? After all the posts I've seen about this book I didn't know how heavy it would be, how nice and thick it is – and that I would have four (4!) pages all to myself in it.
Yes, I'm published! I submitted some pages to Dawn ages ago and was accepted, included, published.
Eleven (yes 11!) of the 1000 pages are made by me, scans of my personal art journals made in Sweden, with my name beside them. Hanna Andersson, Sweden. Eleven. This post is totally my ego talking, and I'm not even going to say "sorry" – hell no, my ego is having a feast over here and singing the happy song! And I'm letting my hair down!
It's an art book that probably will inspire anyone to do a little art journaling (but probably a lot). If you're experienced in this field you can totally keep this book as a reference guide and inspiration tool for different styles, artists and prompts. And I'm not just saying that because I'm in it. I would totally enjoy this book anyway!

Some of my pages in this book! On the right is a "self portrait" page I once did, and it features my photo and my hompage URL too! Oh, darn ego, shut up!
And with this post about a book that I'm published in I also am launching my Book recommendation page! Please check it out and let me know what you think? Thanks!
Some more pages from the book 1000 artist journal pages:
Great content, great design – an art book in my taste! *swirls around*

Yes, I told you. You need this book!
More of 1000 artist journal pages
And to get more Dawn in your life, see these links:
* Dawn's own blog with interviews of the artists, prompts and her own creativity at D'Blogala!
* Dawn on CraftSanity Podcast where she talks at length about this book, her own art journaling history and how she fell in love with art journaling and book art! If you listen carefully you might even here my name (!) which was a fun surprise!
* Plus a ZNE interview with Dawn and her book is also mentioned on Craft Cast!
* Order it from amazon: 1,000 Artist Journal Pages: Personal Pages and Inspirations
!!!