I've crocheted a shawl in Dream Mohair yarn, two different mauve colors (not at all my favorite color):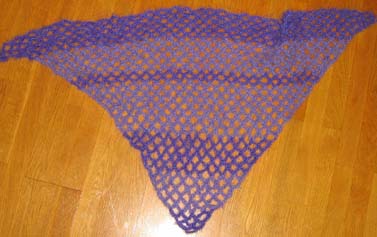 Very fussy yarn, not willing to cooperate at all! I was really trying to kill it when I had to frog some rows and it got stuck inside it self all the time. Stupid, I muttered and tried again. Glad I didn't hurt it to much, at least I don't think so, since it is going to be a gift next year. The yarn itself was a gift from my friend Marika! Thank you Marika, I'm trying some of the other yarn types soon too! I think it was difficult to knit with mohair, but the result is soft and cozy.
Crochet link of the week: At flickr I've found Patrizio's album: crocheted animals! Great work!