If you havn't been able to read any of my post this week it might be because your screen is dirty? Here is a free screen wash to help you out!
Ok, that's better.
But if you still are not able to read this weeks posts it's because I didn't feel like writing at all – since I have been a littel down this week.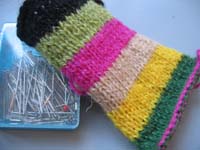 I krashed my car last weekend, and it now resides in car heaven. No animals or humans were hurt in the krash, but to have a car, or not to, is now a big question that we have to deal with, and it's just so boring. I'd rather just knit.
Tomorrow is the big start date of our knit-a-very-long-sock-knitalong (my first ever knitalong), and I have been a good girl. Bought the yarn, knitted a swatch in all six colors and waiting to cast on utnil tomorrow morning!
But the swatch that according to the pattern is 20 sts x 36 rows wich would become a swatch of 4 inches (4×2,54=10,16), that is 10 cm. But my swath is a sad 9×11 centimeters on 3 mm needles! Not good I guess?
Cassie in NY (with a very nice blog) is doing her math and recalculating the pattern, but I don't know how!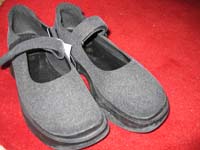 I'm going to have to start and see I guess.
Oh, and I bought a pair of shoes, who will now await a pair of long socks and spring time!
Are they not the cutest shoes ever? Snow, go away! Ice, melt away, let me use my grey spring shoes and knit in the sun.
Cross your fingers folks, here we go!