Packaging and containers lend themselves well to storage in a studio. As an artist I'm always in need of new, fun ways to store pens, threads, and finished notebooks. There is always something that needs to be put away… And to customize a box to your own liking is so much fun. When a food packaging is sturdy and well made, it should be reused in some way. Recycling is better than buying a fancy new box from the office store!
I found that the Whiskas box for cat food was a nice size and form. And that's why I decided to to "paper patchwork" it!
If you feel in need of a fun paper craft project, and a nice container like this one, this is it. Give it a try and have fun!
All you need is a glue stick, scissors and bits of patterned paper! And a box of course. If you don't have a cat you can use a food container for human food, like a milk carton or a empty box of crackers. Cut of the top of the box with a craft knife, and get started with the collaging part. It's time to create a paper patchwork.
Here is a before and after photo: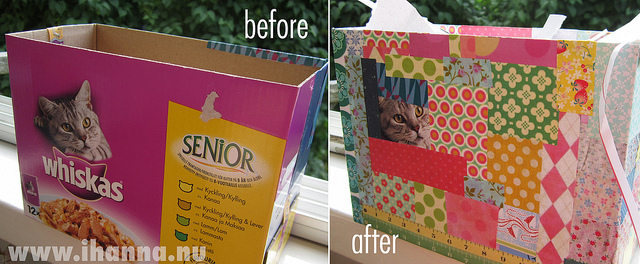 As you can see on the finished box I let the cat face peek through. I thought it was a fun to leave a bit of the original look as a reminder of what this pretty box used to be!
To cover a surface with "paper patchwork" is one of my favorite ideas for a great craft time. Once you start you can't stop, so make sure you've got at least two boxes at arms reach. Washi tape is also a good idea. I used a lot of different patterns and colors, but to me they are all in the "happy range".
Right now I'm using one of these to store stickers and labels that I want to have handy when I journal. They're purfect for storing small notebooks, paper scraps or pens in. And the paper patchwork makes me happy. In fact, all of these patterns make me happy!
What do you recycle and keep out of the trash?