This was also in the mail when I came home this week: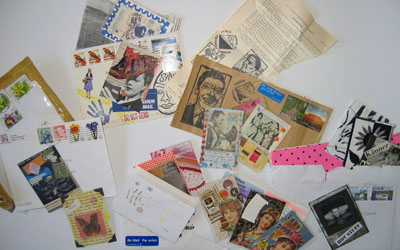 ATC's from all over the world!
In May I've started trading ATC's like a mad girl. It's so fun. I love how easy it was to start up. Just make some ATC, add them to the web and start playing. If nobody asks you to trade, you go ask them! Couldn't be easier right?
And I love how easy it is to make something. It can be so quick and the result is stunning! I love my own ATC's a lot – and some other people has said they like em' too! Belive it or not. Like Kim of Kim's suitcase who sent me three of her collage ATC's and the cutest little homemade book with her poems in as a little extra! Here is my favourit line from her poems:
"Inside I sit, outside in the garden
grows the quiet potato plants

My feet asleep under a blaket,
of knitted nightshade"
I don't know what is the greatest about the ATC-swapping. The little extra some send along, or that you get these small pieces of art from all over the world (some that you have been allowed to chose yourself!) or the beautiful envelopes with stamps, stamp art and writing on? It's the all togehter experience I guess.
To make, give and recieve, what a blast!