I've gotten all my Postcards in Myra's swap with a cute theme, the Postcard swap No 2. This time the cards were Happy new year-cards for the Chinese New Year 2006, Yeas of the Dog. It was super fun to be in this swap.
I'm glad I put mine in envelopes, because it feels sad that these art pieces got so beaten up on their way traveling to me in Sweden: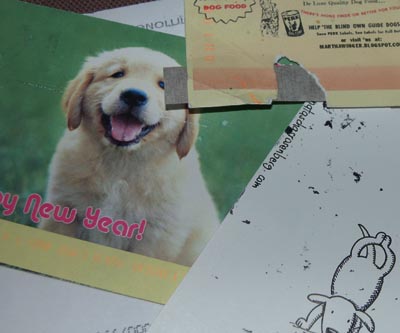 Natasha's dog got smeared, the dog food commercial got teared and the golden retriever got a post office sticker on him.
But all of them are definitely beautiful anyway. These are all of them in a pile;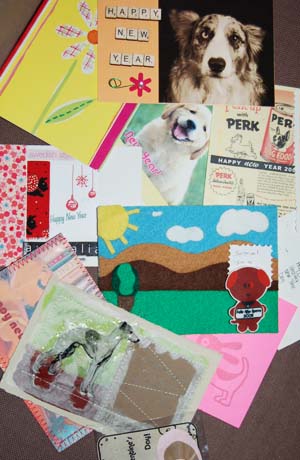 What a great pile of cards!
Thank you everyone!
I got postcards from our host Myra of my Little Mochi, Jessica, Lisa, Melissa, Robyn (Coops!), Denise, Justine, artist Natascha Rosenberg (again, lucky me!), Martha Winger and Jen.
Thank you so much for all of your time and devotion, I've had so much fun this last week fetching the post at the mail box.
Thanks!
I'll post pictures of the dog cards that I sent soon, maybe tomorrow.
Take care!