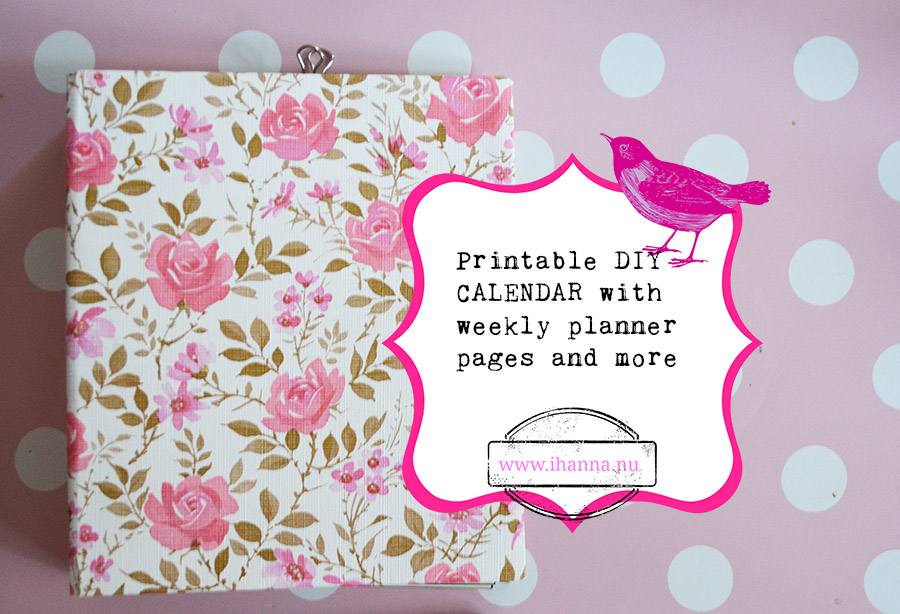 Instant Download | Calendar Inspirations | Subscribe to iHanna's Newsletter
Do you look for "the perfect planner" every new year? Do you then settle for an "okay one" and dislike the layout of the pages? Yeah, me too. But now I've got the perfect solution for you! Create your own calendar! It is super fun! Print, customize and enjoy!
Do you love washi tape, tabs, cutting paper and being creative? Do you like to map out your week and make sure your meeting your values each day? If you enjoy creating things that is personal and made just for you then maybe it's time you make your own calendar. Get the full year in weekly and monthly overview, print it and assemble as you prefer to use it. Add on extra pages for lists, memory keeping, inspiration and motivation.
There are lots of calendar inspiration & free tutorials on my blog to use for your DIY Calendar.
What the DIY Calendar 2016 – 2017 kit includes
Here is what's included in this 55 page PDF-file:
Weekly 7 day pages of the entire year of 2016 and the first six months of 2017! All weekly pages include a week number, daily date, word prompts to keep track of your life and three sections for appointments etc
Daily word prompts to remind you to take care of body, soul, personal creativity and projects and record how you are feeling on that day with a grade of your choice
An encouragement or happy thought on top of each weekly overview!
Monthly overview pages: One month per page for 2016 and the first six months of 2017.
6 months overview on one page, undated January 2016 to December 2017
A page to define your own scale – give each day a rating and decide what it should mean to you. It could be about work, your health, mood, the weather or anything else you want to rate daily!
A definition page – decide what the five different daily word prompts should mean to you. Make your calendar personal and keep track of what's important to you each day!
A tabbed index template for creating your own index dividers + a list of printable words to create your own tabs included
Plus a wee how-to assemble & user guide for more ideas on how to set your calendar up.
Also a fun Empowerment of the Year typograhpy page at the start of the calendar: 2016 is going to be awesome!
Buy the 2016-2017 Calendar at ETSY – you'll get an instantly downloadable file!

Swedish version also available, for 85 SEK – contact me and I'll send it to you!
Awesome DIY calendar inspiration and printable planner pages at @iHanna's! [tweet it]

DIY Calendar Inspiration

I have been using my own do it yourself calendar and planner pages for several years now. As I update it for 2014 I posted some fun, free tutorials to my blog on how I use these pages, how to create your own tabbed index to divide sections and more! Here are a few posts to get you started on your own calendar adventure:
How to make your own Planner – customize a ring binder that fits your purse!
How to create your own transparent divider – find today's date quickly
How to Make Your Own Index Tabs – use those fancy papers!
Thoughts on Personalizing your Planner – why size matters, and more
What kind of paper I use to print on – cream colored love
Also check out
Feel free to join iHanna's Newsletter to be notified about the release of extra pages, tutorials on DIY Calendar ideas, the DIY Postcard Swap – and other fun happening around here!