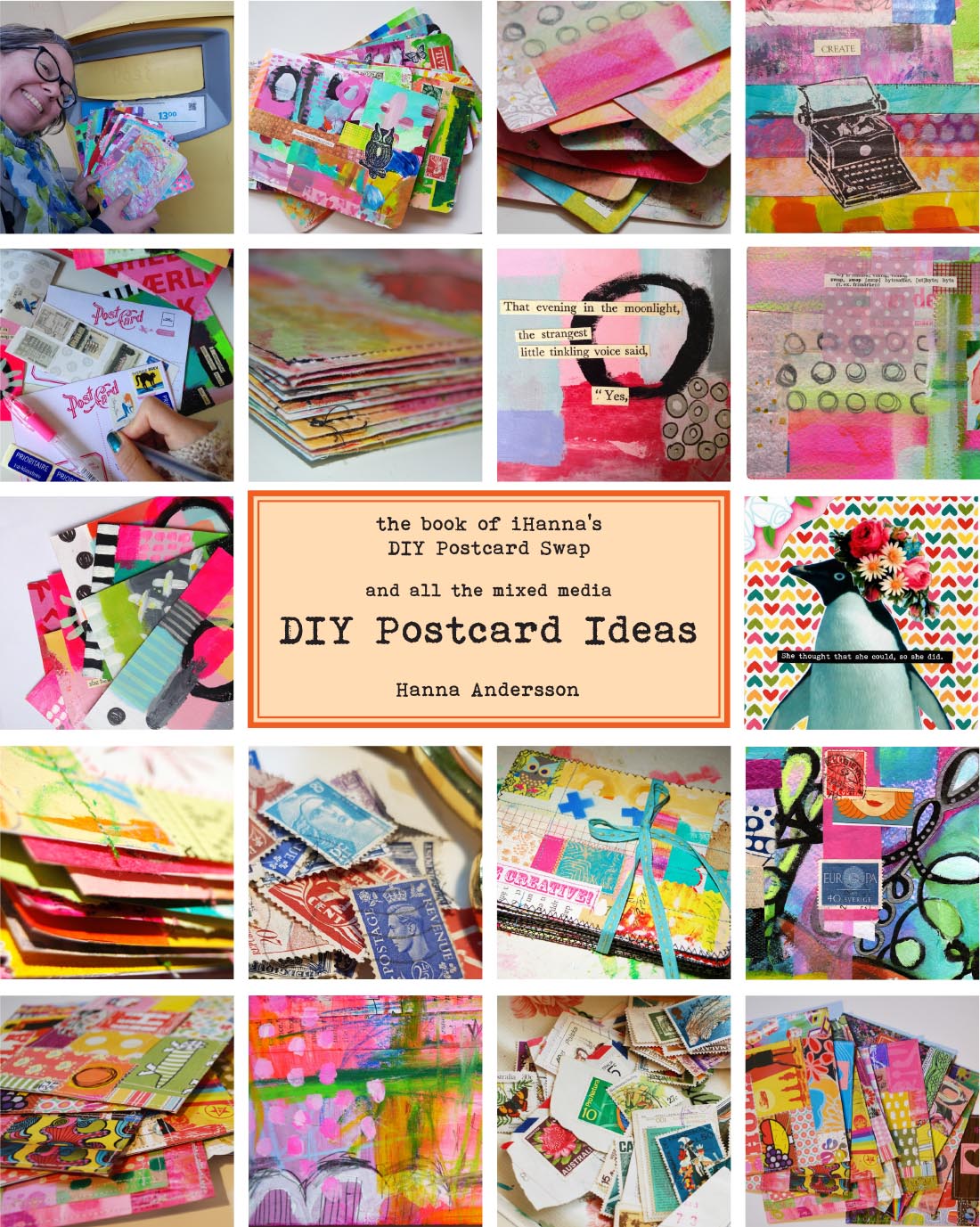 During the 10th Anniversary of the DIY Postcard Swap last year I decided to create a book about DIY Postcards and the swap, and it turned out so very yummy!
It's scary and exciting at the same time to jump into making a big project like a book on your own, but I am hoping you will want it and be as excited about it as I am.
You can order a copy in my Shop right now and learn all about the swap, mail art and DIY Postcards.
Inside its pages you'll find many color photos, tutorials, ideas and fun facts. Yum, like I said.
Get iHanna's book
You can order the digital book right now by visiting the iHanna Shop here and there you will get instant access to download the PDF to you tablet or computer.
The DIY Postcard Swap was born in 2010 and since I love making books, what could be more natural than that ongoing, huge and extraordinary project finally being immortalized in book form – on the year of our 10th anniversary no less!
The Book of iHanna's DIY Postcard Ideas
So, yes it's true. I made a book about the swap and my own adventures into DIY Postcard creating over the years, and pre-orders were delivered on 24th of December last year. You can get your as a digital file (a PDF-file that can be read on your computer or tablet) this week!
I want this book to both be a documentation of the swap over the years, but most of all, a colorful, happy mail art book of techniques and ideas for making your own postcards! Most of it is my edited blog posts from over the eleven years I have been hosting this fun swap, but also some newly created material and photos never shared on the blog!
Check out the DIY Postcard Swap here!
The price is only $25 $19 right now
The iHanna DIY Postcard BOOK is available for just 25 USD $19! It's a bargain for getting a fun, colorful read that will inspire you for years to come!
Note that the book will be delivered as a digital book – as I can not afford printing it right now. Follow my blog and stay subscribed to my Newsletter to be notified about any changes and about the next swap.
It's epic!
"DIY Postcard" is a term I coined myself eleven years ago because I wanted to mark that these postcards were special and not the kind you buy when you're on holiday to send home as proof of being abroad. They are all about Do it yourself power and happiness!
If you want to join the DIY Postcard Swap click here.