I think of the creative adventures that I am doing as "projects". This helps me plan, start, continue and finish bigger goals in life, like publishing a book etc. This is a list of creative projects that I have done already (!) during the past few years. Each project has a few links to blog posts that describe my process. Feel free to click around and also to comment. I hope you will be inspired!
365 collages in 2013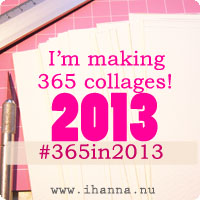 I made 365 small art collages in 2013. I love the square format, and I use papers I find or already have on hand. Each week I posted seven (7) art collages to my blog. To share them with my blog readers helped me be accountable and keep creating them. I inspired others to jump in and do a 365-project of their own too, which makes me happy. I loved that each week people shared their personal favorites in comments! Thanks for your support and encouragement!
Posts about the 365 Collages
Projects in 2012
These are a few of the projects I worked on during 2012.
The List Journal + List Prompts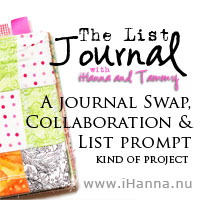 Each Saturday during the autumn of 2012 I posted a list written in the List Journal made by Tammy of DaisyYellow. We swapped journals and made a list of list prompts to journal. And we invited everyone to do these prompts too! You can still do the prompts and post your link in the comment section of each prompt post. Remember that list-writing is super fun – and good for your health!
List prompts and journal pages
The DIY Postcard Swap 2012
Each year I organize a big swap of handmade postcards. This year in February was a blast so I decided to create a second one for autumn 2012, with the theme of empowering. Super fun year of swapping! Join the newsletter if you want to know when the next one is!
DIY Postcard Swap posts from spring 2012
Autumn Postcard Swap posts here
A week in the life
I took part of a personal photo project where you document an entire week (the last week of April, 2012) in photos (lots of photos) and words. It was my first time joining this project, created by Ali Edwards. I loved having my camera with me everywhere. Later I got photos and words printed in a private photo book made through Blurb.
Later in 2012 (May 15) I also documented my life, using my android phone, for the international photo project A day.
Take a Stitch Tuesday
Take a Stitch Tuesday, TAST, is an embroidery challenge for 2012. Each week Sharon of Pin Tangle will present a new stitch to learn or play with. For week one I learned to sew the fly stitch, and each week I'm learning something new. Not only about stitching but about me and my taste.
Project made in 2011
Index-Card-A-Day Summer
My blog friend Tammy of DaisyYellow came up with this great project to fill one of those index cards each day during the summer. I jumped at the idea and I'm not the only one either. It's quick, easy and super fun to be creative every day. Makes it habitual and easy to remember. I made +60 cards during June and July 2011.
*** Index Card Posts
DIY Postcard Swap
This is the second year I'm arranging a international postcard swap with handmade postcard exchanged all over the world. A lot of work but a lot of fun too!
** The 2011 postcard swap posts
Project made in 2010
Art Every Day month
November is art every day month, a project where you strive to be creative every day for a full month. I did not make a card every day but stretched and did 30 art collages during the month. I love the challenge!
*** Art every day posts
The Sketchbook Project
I signed up for a Moleskine cashier notebook and send it back to the Art House (in USA) where during 2011 it has been in a traveling exhibition of Sketchbooks. Real wonderfully yummy sketchbooks that you can browse though and enjoy IRL!
** The Sketchbook Project – theme Grids and Lines
The Great DIY Postcard Swap
I have been in many swaps, but this was the first one as the organizer. Over 150 people joined me – at least one participant from every continent. This swap celebrates all things I believe in; creativity, connecting, sharing and having fun! We made 10 handmade postcards, and then we received 10 beautiful surprises back in the mail. That's a lot of creativity in mail boxes around the world!
*** DIY Postcard Swap 2010
Project made in 2009
Zine Making
I love everything about this project, started in 2009 as a part of a zine swap. From planning and writing to making each zine (with its inclusions and sewn wallpaper covers) as the first batch sold out in my Etsy Shop.
* I made a zine about Art Journaling – a zine about my passion
* The Creative Process of making a zine – hands on and naming
* Zine benefits – there is lots of happiness in the process
Printed Blurb Photo Album 2008
I took all my favorite photos from 2008 and created a Photo album on my computer using InDesign. I uploaded the layout as a pdf-file to Blurb print on demand, and ordered a copy. This book is a private photo album called Minnesbilder and not for sale. I think the end result is stunning! I now have a memory book I will always treasure.
* Design your own Photo Album – starting to dream it up
* What to do with all your Digital Photos? – start sorting those babies!
* A Years Worth of Photos – finished product
* Making a Blurb Book – question and answers post
Photo Collaboration + Blurb book
In 2009 I did a photographic project with my blog friend Sophie for one months. We were "Team Diptych" and with a daily theme we took photos for 30 days and transformed them into diptychs. I made a book with our thoughts and photos, it is available at blurb.com and it's called because 2 is better than 1.
* Diving into diptychs – starting the project
* How to make a Blurb Photo book – square and fair
* Photographic inspiration book – this project resulted in a book at Blurb
Projects in 2008
366 Daily Art Cards
During 2008 I cultivated a daily creative practice by making a collage each day. My Daily Art Cards were created on a 10×10 centimeter piece of white watercolor paper. I tried a lot of different things on my cards like fabric, zentangles, painting on wet paper and weaving with yarn etc!
* Where I got the Idea – art challenge by Aisling called the "7/30/365 Challange"
* Creating a Daily Habit – with my Daily Art Cards
* Every piece of paper has a story – making collages
* Inspiration is everywhere
* Day 100 of the Daily Cards
* Name Game – how to title your art
* More about naming the cards
2007 Projects
A Creative Year
A Creative Year with iHanna is a self published book, the first one I made. It contains a years edited blog posts (from 2006) and is about the creative force in my life. What I made, sold, bought and created. It is filled with creativity, photos and inspiration. It is expensive because of the colour print, but everyone who splurged says it was worth the money. It's available from lulu.com and was sold for a while at Amazon too!
* 9 months later – birthing the project and where the idea started
* This book is a treasure – rave and questions
* More information about the book – at my homepage
Writing a novel
In November I participated in something that is called NaNoWriMo; National Novel Writing Month, where lots of people all over the globe try to write a novel in one month. The goal is to write a 175-page (50,000-word) novel by midnight, November 30. I did not "win" but I really challenged myself and enjoyed the writing a lot.
* Writing a Novel in one month
* Speaking of monkeys?
I do projects of all kinds all the time, these are just a few of the big ones. More will be posted as I continue my journey of creative exploration!