I have been doing visual journaling on my own for so many years that when the opportunity to take a class with Orly Avinary came, I had to take it even though it was way over my budget. But how often does one of your blogging art idols come traveling to your country from the US to teach? And Orly Avinary came to a location that is two hours away for me to travel to, in the archipelago of Stockholm, Sweden! That does not happen very often, really.
So I used some of my savings and marked my calendar, and I have been waiting for a about a year to go to this class. I didn't really know what to expect, but the class has a name that was calling for me: The Visual Journal as Sanctuary…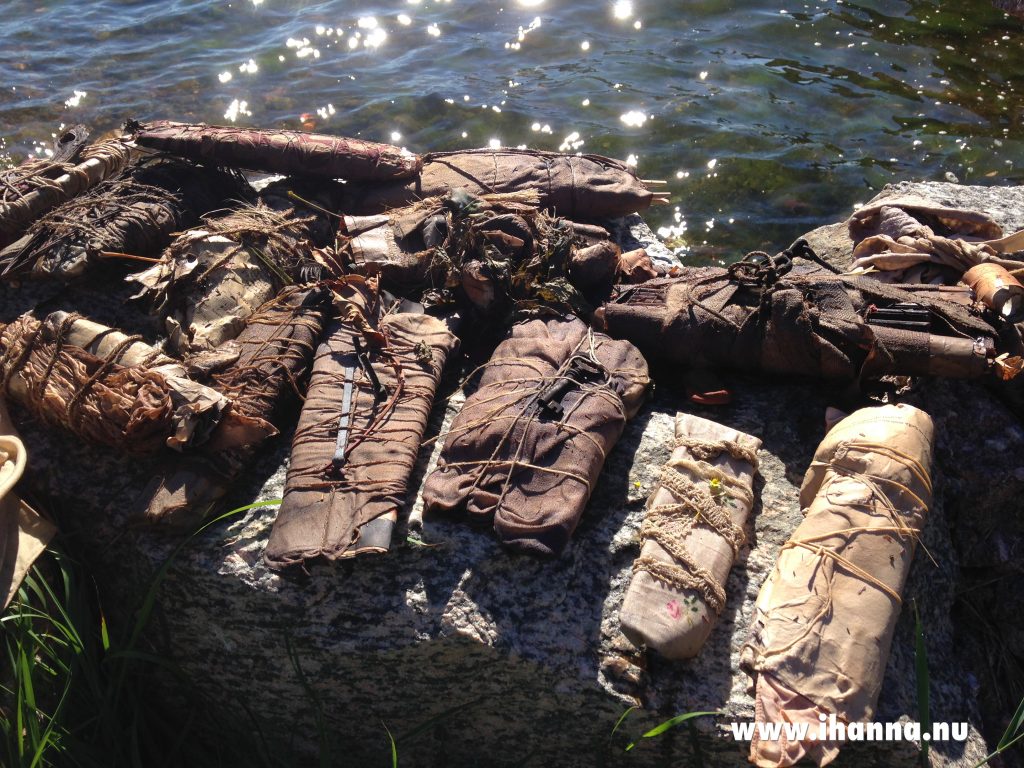 The workshop was a three day event on the island of Vaxholm, just outside of Stockholm. I could only attend two days because I managed to feel really sick the first day. It was such a disappointment to not be able to be there that first day, with the introduction and time to get to know the classmates, that I was contemplating giving it up altogether.
Why try so hard when my body wouldn't let me? It felt like I would be in bed crying for ever, until it went away. By Friday evening I felt better, so I repacked my things and took a boat out to the island of Vaxholm the morning after. And I'm so happy I joined.
I have taken a few online classes, and taught some too over the years, but this was the first time I was among artist friends IRL. You can not imagine how it felt being in a group of "paper nerds" and artists, almost for the first time in my life. Surrounded by acrylic paint, stamp pads, and the secret packages that they'd already bundled up the first day. I wish for more days like that.
As an introvert, I'm always hesitant to sign up for things like this, but it is so worth it. I loved the beautiful location, a little rowing boat house next to the ocean, and the beautiful gallery room where we worked. It had high a ceiling, rustic wooden floor and beautiful lights. Where we create matters too, especially away from home.
I also loved all the women in the class. I only wished I could have gotten to know them a bit better, but two busy days of making art is not enough time for that.
So yes, I wish it had lasted longer, or that I could see these people again in a week or two to talk about the class, about art journaling in general and all of it. We're all on Facebook, but that just isn't the same. Maybe one of the biggest reasons I went is because I long for connection?
Anyway, visual journaling has been my sanctuary and saving grace for over 10 years, but it's been a lonely sanctuary at times (even though I appreciate this space and you guys reading about my art journal journey here). This is what I want more of in my life, in one form or other.
Old Passports and being vulnerable
I went to the class to learn new ways of thinking and doing things, but then I also got to connect to myself and my own core beliefs as an artist.
I knew Orly's style these days is full of muted colors, rust and browns. I love this worn and vintage looking style of art a lot, but I haven't done much of it on my own. But for this I embraced other colors than my usual, and tried black gesso for the first time for example. I am definitely getting myself a big jar of that as soon as I can, because it was fun to play with.
I also used a quite a lot of magenta pink, encouraged by Orly to try her style – but also embrace my own.
I know I would never worked in or with and old passport on my own, but when asked to bring one I found two of my own passports around here (horder tendencies anyone?) Being introduced to the way Orly thinks and has used vintage passports in her art was really interesting. She talked about "making meaning" in a way I'd forgotten existed. It was like a reminder that you can let feelings out on paper, that any book (or any item) can be made meaningful if you choose to make it so. That is the power of being an artist.
I'm not going to reveal the details here about what we did and learned in this class, since it was more about "trying out" the process of another artist and that artist has her own rights to sharing that. It was also rather personal, with talk about loss and death, and I think everyone was feeling a little bit vulnerable afterwards. But I can say, that if you have the chance to take one of her classes, you should. She came to Stockholm via Prag and went on from us to Irland, so the class is on tour and hopefully will be again.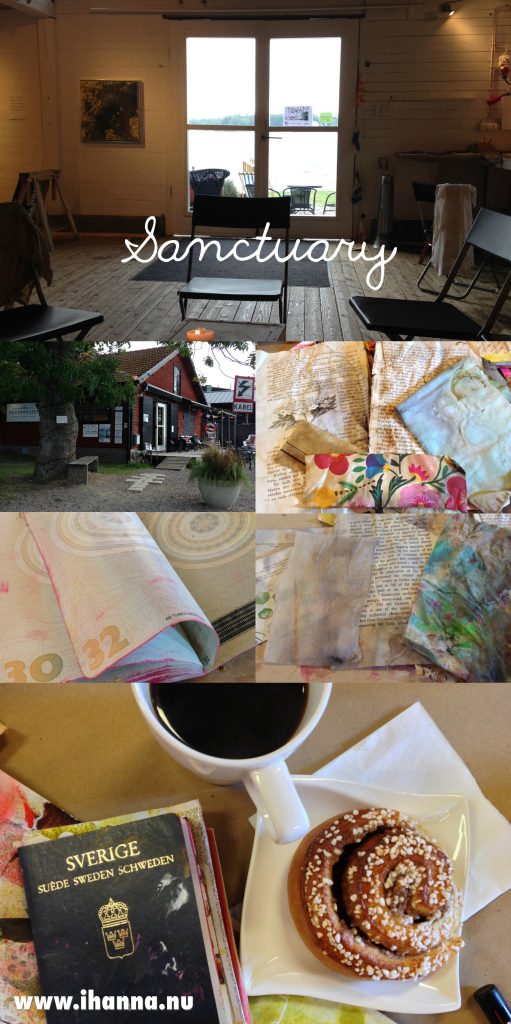 Feel free to leave me a comment below about your art practice. Is it just for fun and color play, or do you allow yourself to also be vulnerable, raw and emotional?
Click on if you want to learn more about Orly Avinery's retreats around the world, I found this text linked from there, and I think it is so beautifully written.
The practice of Art-Journaling cultivates insight into the nature of the creative process and its multiple meanings. Enriched by self trust and acceptance, paper, paint, words, pen, and line entwine to make expressive complex intimate books. It's all about one's willingness to reveal vulnerability and rawness for the sake of true creative freedom. Experiencing honest and joyous journeys takes precedence over producing beautiful outcomes. Ultimately, Art-Journaling is about depicting the fluidity of life, about effortlessly carrying one's self from one place to another.
Oh and watch this video by Orly about her process, it's beautiful:
Let it go, let it come back…differently.

Publicerat av Orly Avineri den 28 mars 2016

xoxox
/iHanna