Wanna take an art journal class in 2016? Look no further!
December is here, and it feels good already. I think December is one of my favorite months – not because of Christmas, but because I get to plan for a whole new year that is getting closer and closer. I'm thinking about my planner pages for next year, what I will track, what I want to work on and get done and so on. One of the things I'm planning to do, is joining, and teaching in, this awesome online workshop/class called The Journey Within – A Year of Handmade Art Journals!
It's a 2016 year long Art Journal Class, that will include loads of book binding techniques! I love the concept already, and I feel honored that I was invited to be a guest teacher in this class. If you join, or have any questions, let me know below.
What's included in this Art Journal Class 2016
Creative Exploration Through Art Journaling and Handmade Books!
This class will be all about Creative Empowerment, Handmade Books, Art Journaling, and Mixed Media for those who want to express themselves using words and images! This year long class includes several bits and pieces to keep you inspired each month. Here's what you can expect:
What you'll get
A monthly bookmaking tutorial video class (with a supplemental PDF) from Kiala Givehand, the host of the workshop
A theme for the month that can be used to stay inspired and help you create art journals that have cohesive content from month to month
Weekly theme related prompts for your art journaling journey
A set of monthly word and picture prompts for those who like a good monthly challenge, or that want a specific inspiration daily!
Art journal process videos from Kiala, the 6 core teachers, and monthly Guest Artists (yay, I'm the guest artist for February!)
A live (virtual) creative meetup with instructors and students in the class and the recording of the meetup
Access to a private discussion forum
So if you have ever wanted to make your own journal, this class is for you! Book binding is intimidating before you start doing it, but once you know the basics, the sky is the limit. I love making my own journals a lot, and I think you will too. Plus, I already know that Kiala is a great educationist and inspiring teacher!
There is also art journal prompts, lessons and videos! So if you sometimes feel that you'd like a bit of help/inspiration to fill that Art Journal, you'll simply love this class, I'm sure. I look forward to doing all the prompts, and there is already a December journal-making in the classroom, waiting for you if you're eager to get started! I'm making that book this weekend, it's a dos-a-dos book structure (from the French meaning "back-to-back", a book that opens from two sides!), something I've never tried before: Can you tell I'm excited? If you want to join, do it via my affiliate link by clicking here:

Here's a few of the many different teacher that you'll learn from and be inspired by in 2016: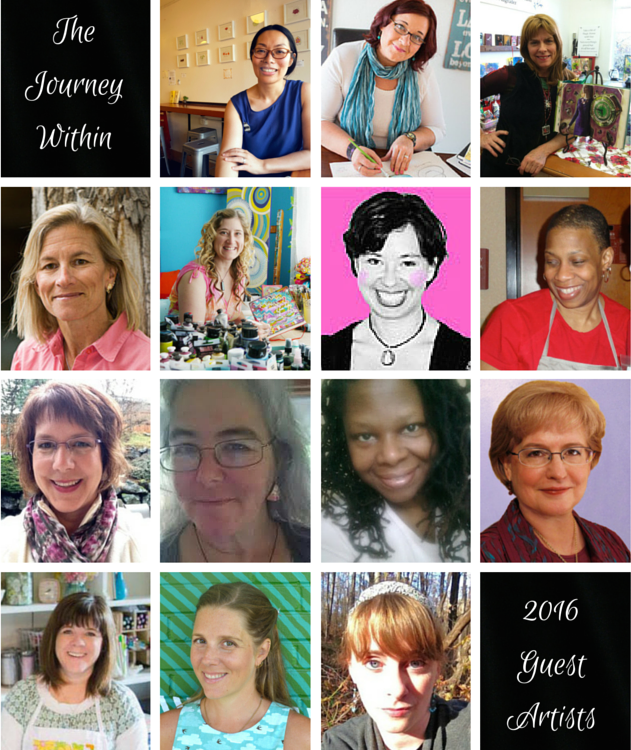 Some great artists, and then… me! Most of them are new to me, but I look forward to getting to know them a bit, and learning from them. Through hanging on social media this year, I have gotten to know Kiala Givehand though, and it's through her all this is happening.
Important information:
The course The Journey Within: A Year of Handmade Art Journals starts January 1, 2016, but you can join already! You will learn how to make 12 Handmade Art Journals in 2016 with Kiala Givehand and 18 Extraordinary Teaching Artists! The whole Bundle is $120.

Registration closes for the whole year version of the class on July 1, 2016. Each quarterly session has it's on start and end dates. Participants have access to the course indefinitely! The course will be a facilitated course until December 31, 2016.
And how long do I have access to the course? How does lifetime access sound? After enrolling, you have unlimited access to this course for as long as you like – across any and all devices you own. I'm sure you're eager to get started (so are we), but you won't see any actual lessons in the classroom until December 27, 2015, except, like I mentioned above, that dos a dos book workshop!
Doesn't it all sounds fab?
I think books can be the art form. Look at these for example, from my Pinterst board, Books As Art:
Follow iHanna's board Books as Art on Pinterest.
If you're taking an art journal class online in 2016, this should be it if you ask me.