I'm super excited about the fact that I'm one of the teachers at the online Art Journal Workshop 21 SECRETS Fall 2015. I will show you how to find cheap materials and make a super fun Art Journal collage in my Workshop. I hope you'll want to join me, because this is a class you don't want to miss out on.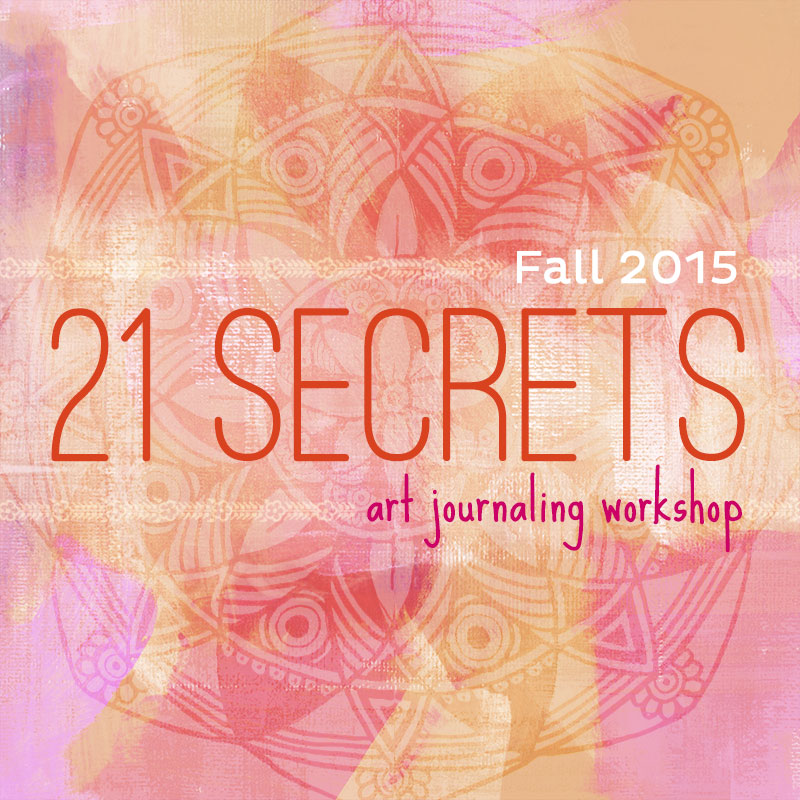 I'm so sorry that I've been keeping this a secret from you, but today I'm allowed to reveal some facts and tell you about the Early Bird Special that you get if you buy this workshop before the 4th of September!
When you get the workshop 21 SECRETS Fall 2015 you will get an eBook containing 21 different workshops/teachers providing video, photos, tutorials, inspiration and images for their workshops.
And to make this early bird sale even sweeter, if you registers between today and Friday September 4th, you will receive a free thank-you gift of ten 90 minute workshops that were part of our 21 SECRETS LIVE! series last year: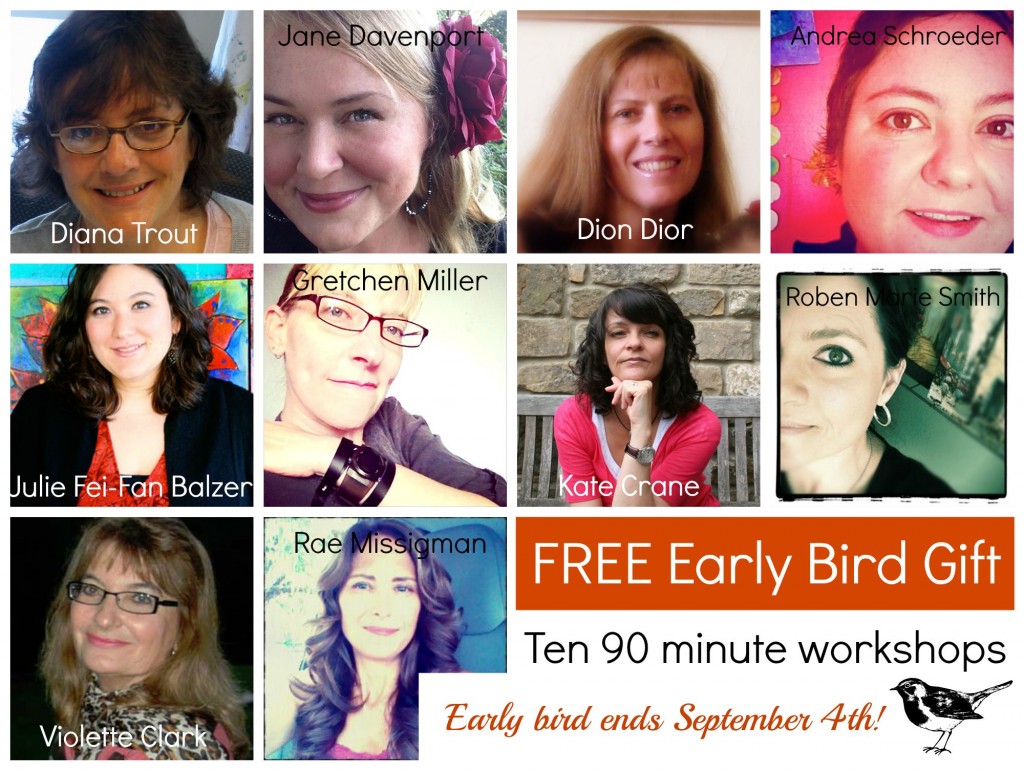 Art Journal Workshop Teachers Fall 2015
There are so many awesome artists and teachers in this workshop cluster, you'll be amazed! I feel pretty sure you'll recognize many of these names and will be thrilled to be inspired by them all winter long.
Among them I particularly look forward to learning from fab Orly Avineri (whos book I reviewed here) and watercolor artist Gina Lee Kim who I recently found and who makes awesome videos! A since long favorite is Magpiegirl Rachelle Mee Chapman and textile artist Lesley Riley who is also teaching alongside with me in STITCHED (still available).
The others teachers this fall are Ashley Joon, Jessica Gordon, Cassia Cogger, Catherine Anderson, Chris Zydel, Fonda Clark, Maya Stein and Amy Tingle, Jassy Watson, me (Hanna Andersson), Carrie Todd, Robin Kalinich, Amanda Fall, Crystal Moody, Faith Evans Sills, Jane Cunningham, Jennifer Joanou and Malini Parker. Yay, what a lineup!
My collage workshop consists of at least 3 videos so far. That, all these teachers and the Early Bird extra gift of 90 minutes workshops – get it all at Dirty Footprint Studio.


I am teaching Art Journal Collage
Description of my part of the 21 Secrets: I am a fan of collage and recycling materials and here I aim to combine these things. In my workshop I will talk about what kind of paper you can collect and play with when it comes to collage – and where to find it without spending much on fancy papers. I'll tell you my secrets on where I find the best stuff…
Then when you've got your scrap inbox ready, we'll create an art journal spread with these pieces of paper and a trusted glue stick (I recommend a Uhu-glue stick). You will experience the magic and joy of collage, and afterwards I think you'll wanting to stick with this art form for a long time…
21 Secrets Mission
A quote from the Art Journal Workshop mission:
21 SECRETS teachers create workshops that beautifully reflect who they are as an artist right here and now. The mission behind 21 SECRETS is to showcase a variety of approaches, techniques, and ways of integrating art journaling and creativity into one's life. With both an open heart and an open art journal, together we as teachers provide our members the space, permission, and inspiration to navigate those unexplored territories within their own hearts that are longing to be fully expressed.
That's a good mission statement if you ask me, and a lot what this blog and I am about too. I'm calling my part in the workshop: Stick with it, dear paper hoarder…
I'm going to post more about making this workshop next week, and maybe even do a promo-video, so stay tuned. But in the meantime, if this is something for you, get the bundle now.
Any questions or comments, feel free to post them in the comments below. If you want to share or post this blog post to pinterest, twitter, facebook or any other social media – I will be very grateful and humble. Thanks for being here.