To achieve the impossible, you must attempt the absurd…
Jon R. Michaelsen
Today is my 10th blogoversary, which means I have been writing blog posts for this blog for the past ten years! That is a long time to keep doing anything, and in the blog world I must be considered to be one of the veterans, right?
When I started this blog, I had just found out what a blog was and my first post explains the new phenomenon and the allure it already had on me.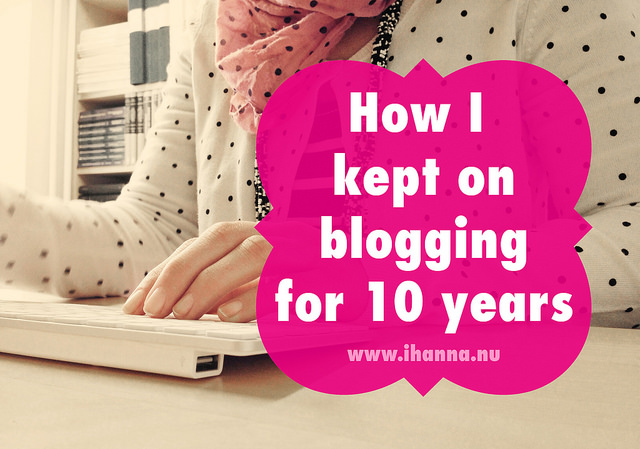 Because I have always loved writing I knew it was something that I could do and wanted to try. Maybe it would be something that I would be really good at? I am not the kind of writer that comes up with stories, instead I journal in my diary and write about my own experiences, and that's what this blog has always been about. Me, and in extension you. What I make of my days, and what you can make of yours. Then my vision of what I wanted to share and talk about grew from there, and it has kept growing with me and my expanding interests.
I have been thinking about hosting a big 10 year anniversary event or giveaway, but the thought of doing something big right now is giving me more of a block than a boost. And that's not why I blog… So instead I am sitting in a cafe in the town where it all started, sipping a nice coffee and thinking about the past 10 years of this blog's life span, and my own life as it enfolded and still enfolds…
A lot happens in a 10 year period, so the question is: what is it that has kept me blogging for so long? Why haven't I, like so many others, let my blog die and moved on to something else? Why am I still excited about posting, and why have I never experienced any problem with what I wanted to post about? I think there are some dark reasons for me blogging too, but let's not explore those today. The reasons I love my blog and have kept writing it for 10 years has something to do with:
GROWTH | My blog has grown along with me
I didn't name this a knitting blog when I started it and wrote mostly about my newbie knitting experiences, and I didn't even know it was going to be chronicling my creative journey in the beginning. Instead I wrote about the movies I saw, books I read, and then it evolved almost by it self into a craft blog, and now in later years, a mixed media and art blog more than anything.
I have explored the topics of my own life here: photography, book making, art journaling, getting a cat and scoring on flea markets and thrift shops. My blog is as varied as me, and that's the way I like it. And I know you do too.
And through being part of the blogging world, I have pushed myself, taken part in weekly and yearly challenges, gotten to take awesome art classes online and met wonderful friends.
HAPPINESS | My blog makes me happy
Friendship and getting feedback on my own projects makes us happy. Even though I am an introvert these things are important to me, and blogging has given me this things more than I could ever get without blogging.
Because I love writing, photography, photo editing, documenting and exploring creativity, blogging has proven to be the perfect thing for me and my personality. I was born a blogger, even before blogging existed! You can start a good blog just by sharing one picture each day, or by writing long articles even without sharing any images (yes you can because I have seen it happen), there are many ways of blogging. The ones that succeed finds out what makes them happy, and keep doing it. The combination of all of these things is what I love most. So, day after day, I find new ways to do it.
This blog is the pillar of my own Happiness Project. It documents what makes me happy, and as a consequence of that, it makes me an even more happy person!
INSPIRATION | I love sharing to inspire others
I surely didn't know in the beginning that one of my big reasons would be the joy of inspiring my readers. If I have ever inspired you to cut and paste, to paint, to write, to document your life in video or photography, to join the postcard swap, tried free form embroidery, filled a notebook, or explored the possibility of making a personalized DIY Calendar, then I have succeeded with my mission! My mission is to encourage and inspire you to be more creative in your own life, in ways that fits your lifestyle and personality.
And the best part of blogging might just be that I do know my reach. I know I have succeeded, because you tell me so in e-mails, letters, and comments on the blog. And those comments gives me inspiration in return. Inspiration to keep writing, sharing, thinking, creating and being the best blogger I can be.
To achieve the impossible, you must attempt the absurd… To write blog posts for this many years sounds like an absurd task. Not impossible, but absurd indeed. As is life, most of the time if you ask me. Luckily I didn't know that when I started. Lucky for all of us, we don't know what is ahead of us.
Thanks for being here, thanks for letting me share all of this with you!
You can subscribe to new posts via e-mail or RSS, because my blog archives will keep growing. So stay tuned my friends!
Oh yeah, I also recorded a little snippet of audio for you guys, about why I started blogging and why I keep going, click to listen: