Action is no less necessary than thought to the instinctive tendencies of the human frame.
Mahatma Gandhi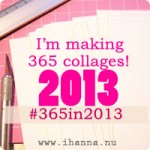 It's week 30 of my project 365 Collages and I'm still loving every single aspect of this project!
This week though my seven collages are a bit different than before. They're all made from my stack of notes, collected by the computer. On Post It-notes and other small bits of paper I write down my To Do-lists, my Have Done-lists, books to read, movies to see, words I hear and calculations I make… All of this should go into my planner but right now it's out of order, so my plan for August is to revitalize my system and make some new sections for all these lists and div notes!
I decided to cut up and use the notes I felt safe to dispense, and use the bits in my collage work. Why not, you know, because the Post it-notes has pretty neon colours! Talk about daily ephemera becoming art… At least I tried to make it look like frame-able art, but I'm not sure if I succeeded? At least these collages are very much me, both in content, handwriting and colour.
Let me know what you think in the comments!
Yes.
I'm being very creative with the titles in this series of collages!
So, what do you think? Crazy idea, right?

Previous post in the series of 365 Collages in 2013 was Week 29 – black and white again. Next up will be made this week, week 31 and posted next week! Next collage post: Week 31