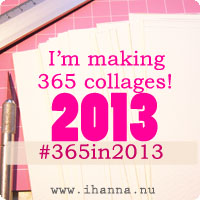 I have been creating a few more smart journals, in neutral and brown hues, digging through my paper stash for a cohesive look of both cover and inside pages. I will post them to my Etsy Shop when I have photographed them. And while some brown paper and other patterned paper was out on my table (and on my mind) I decided to go with it for this week's 365 Collage Project! It's also a bit of a overflow from last week's foxy edition and its earthy tones, don't you think?
If you have the time, please let me know in the comments, which of these collages is your favorite – and why! I very much appreciate each and every comment because they motivate me to start thinking about next week's batch of collages – and keeps me going with this huge project of 365 collages in one single, very long year…
We have passed the half year mark, and I am still going strong. Some days I don't feel any need to ever do another collage in my life, but then my passion for paper draws me back in… And I keep going.
Thank you for your visit and continued encouragement!
This is a post in my series 365 Collages in 2013 | Plan Your Own 365 Project | Keep Organized with a 365 Project | About my Creative Process | Previously: Week 25 (Foxy Edition) | Next Collage Post: Week 27