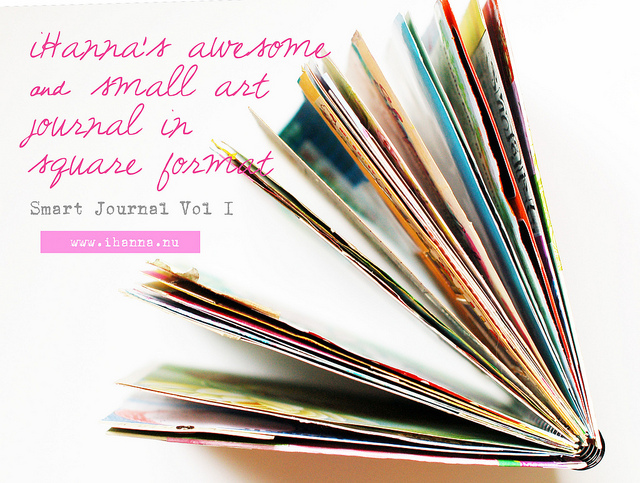 Yay! Today is all about my the prettiness of one of my Art Journals! And I'm calling it a Smart Journal. The name is my own invention but mostly just a wordplay. And you know me, I'm a sucker for playing with words.
It's a Small Square Art Journal = Smart! A finished notebook that I fill with a mix of fun papers and spiral bind together. I love to name things and projects. It helps me keep track of what I'm doing and where I am. It gives me direction and intention. This is volume one in a series of new, smaller journals.

I think this journal is pretty smart looking, or what do you say?
Lush Green and Blue and Pink Smart Journals are sold, but Rainbow is still in iHanna's Etsy Shop [shop moved here] right now. While making journals to sell I put together journals of my own. This one is the first one I made. It is created from pages created "on the loose". In my previous post where I talked about how loose pages come together I showed a few of the spreads in vol 1. Now I want to share a few more…
Some pages are simple with just one big magazine image as a focal point. Others have a lot of elements to distract the eye. Some are actually created to be filled with journaling, others didn't have room for any words. All are personal and all about my life in some way. Here are the first few pages in volume one:

Introduction page stating the size (16x16cm) and name of the journal.

Very pretty bird illustrations are included too.

The Sphinx torn from a vintage book that I altered into an art journal. This illustration could also have been included in the Travel journal.

Anything cut out can be glued into an art journal. Here a magazine clipping on how to find energy. A self portrait. Book illustrations. Envelope lining from CSN. And the patterned paper at the right top – what is that pretty thing? Tea packaging!
I made a few loose square journal pages back in spring 2011 already, when I wanted to try a new format and to journal "on the loose". I think it's fascinating how the format of the pages gives you new challenges and opportunities. There is no way to know how you'll like it until you've made a couple of pages!

A feeling of spring! Then – and now.
Thanks for all your kind words on my birthday yesterday. I had a lovely day!
What journal style are you into right now?