It's time for iHanna's DIY Postcard Swap! Sign up now and start your mail art experimenting today!
The second year of the DIY Postcard Swap a whopping 2800 postcards were created! This year is the fourth time I'm doing a spring swap because I still love swapping and receiving handmade mail art! How about you?
I welcome you to join me (again or for the first time), create ten original handmade postcards to send out to the world! Everyone is welcome at any artistic level to this international swap full of colour, artistic play and happy mail box surprises!
Sign up and note the dates
You pay a small fee of 6.00 $ (6 US dollars is about 38 Swedish crowns) to participate. I've found it ensures better participation from those who actually commit! And my swap keeps growing each year (it's now an awesome and well awaited event!) and it takes time to answer questions, distribute hundreds of addresses and stay organized with it all. Right now I really need to do things that are sustainable to my life. By participating you also help sponsor this blog. Thanks for your support!
You pay via paypal (use your paypal account or pay with your debit or credit card as a PayPal guest), and once you've sent the money to my account you will be directed to a sign up-page where I will need your full name, your full postal address including country (!) and of course a working email-address (if it doesn't work I can not send you the 10 addresses where you should send your postcards)!
[paypal button removed – postcard swap closed]
Sign up ends March 24th! Until then keep spreading the word to friends. The week after Monday March 24th you will receive your ten swap partner's addresses to the email address you sign up with!
Deadline for sending out postcards is last day of March! You can send them out as soon as you get the addresses from me! Note: You will not get your addresses until the week after Sunday 24th when sign-up is closed!
The DIY Postcard Swap Rules
The rules are simple, but please read these rules and follow through on your part if you choose to sign up. You will disappoint me and real people waiting for your handmade postcards if you don't finish on time.
1. Join the swap by paying the 6 dollar fee via paypal and then filling in your information on the sign in page! Do this before the 24th of March 2013. Please note that this swap is not for children, as requested by other participants.
In the sign up field please state in this order:
full name,
postal address,
including country (!),
2. Make 10 handmade postcards any style – your choice of postcard size.
And have fun!
Bought postcards are beautiful – but those are not welcome in this swap. Instead try to be artistic with your cards!
DIY actually means "Do It Yourself", and you can experiment with what you've got at home. Try collage, mixed media, print your own photos, print digital collages, create flat fabric art, alter an existing postcard from your paper stash (!), paint with watercolors or acrylics, draw a mandala, make a scrapbook style card, embellish, sew, paint, embroider, etc! I've got plenty of inspiration under the tag postcards on my blog
3. Document and share what you make!
This one is optional, but rather fun too.
Feel free to scan or take photos and write about your process on your own blog or share it in the postcard flickr pool! You don't need to have a blog to sign up, nor do you need to share but it would be nice if you took the time to be supportive in our creative community (commenting, making extra cards for those who don't get all of theirs etc). Swapping is about being a part this awesome group of people who loves to swap too! Thanks for visiting other participants, spreading your creativity and leaving encouraging comments etc. Include your email if you want to be contacted/thanked by the receiver (connect with each other!).
4. Get your postcards to the post office no later than March 30! This is important!
Tell your friends and family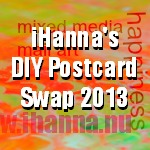 Tell your friends! I usually get my cousin, mom and a few friends to sign up, why don't you invite yours too? If they don't read this blog you can just ask them if they are interested and help them get signed up – just make sure they know the dates + rules of what they sign up for. Spread the word; you're welcome to link here, share this post on FB, creative groups and forums, via twitter (I'm @ihanna) or write about the swap in your next blog post or newsletter or even add one of the swap buttons I've designed to your sidebar (above), linking to this very post!
♥ Thank you for helping out and spreading the word!
Also I would love it if you joined my newsletter – in that way I can share upcoming iHanna events with you.
Ready to sign up? Here is the button again:
[paypal button removed – postcard swap closed]
If you don't have a paypal account yet know that it's easy to set up, free and handles payments secure and pain free for all kinds of online venues. Just set one up now! Once you have it you can join the swap, and maybe check out a cool Etsy Shop too? You can also click the button and then choose to pay with your debit or credit card (VISA etc) as a PayPal guest! Yeah, I know, super easy!
Now, go make some postcards!
Disclaimer: I will only share your postal information with the 10 people that will send you postcards. You are not signed up if you don't include your postal address AND an email address that works in the form that you are redirected to after paying. Do not comment with a message saying; "I want to join". If you get a confirmation mail from paypal you are signed up. Please check your spam folder first, then contact me if you need to!
The DIY Postcard Swap Resources:
Questions? Contact me if you need to! Oh and you send the postcards as regular postcards with a greeting + postal address on the back, and the artwork/pic on the front. You could send it in an envelope if it is very elaborate or bulky, but personally I prefer the postcard style. People will not expect to "use it" further but will want to hang it up, admire it and keep it. I keep all my postcards in a handmade binder and look at them every now and then. Such a treasure!
If you are not redirected to the sign up page on ihanna.nu site make sure you fill it in after paying by clicking here. Thank you!