I have decided. I'm having a Autumn version of the postcard swap! With a theme! You can sign up until 18th of November, so plenty of time to make five postcards! Yay! Then you'll send out your cards before November ends. In this way you have at least two weekends to make postcards. You can make your cards and sign up later, or do it right away:
[paypal sign up button removed]
I will as usual share my postcards and inspiration here, answer questions and provide a space to share your links and images! Also, I have a sheet of fun "fake stamp" printables coming up! I hope you wanna play, if not, that's okay too. There will be a new 10for10 postcard swap by spring.
What to do
1. To sign up you pay the fee of $4 via paypal by clicking the Pay now button.
2. Make 5 postcards by hand, in any medium, with the loose theme of empowerment.
3. Wait until you receive five postal addresses from iHanna via email after the 22th of November (extended from 18th since my blog had some downtime the last week).
4. Send out postcards NO later than Monday 26th of November! Make sure you note this date.
5. You'll get postcards from 5 other people with an empowering message in some form!
6. Participate! Comment, share photos, e-mail a thank-you-note to the ones that send you their postcards.
Help me spread this message by linking to this post, sharing a swap-button, posting to FB or to tweet this message!
Theme: Empowerment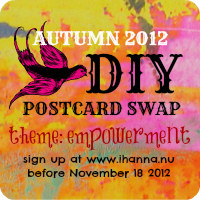 I've been thinking about a theme before. This time I decided on empowerment and I hope you'll be inspired by it and play with it. It's quite broad one, and you can very personal if you want to. As a feminist I'm thinking women need to empower each other! Thinking: encouraging quotes, girl power, kindness & generosity, love and femail role models – but it's up to you what you make of the theme. Blokes are welcome too! It doesn't have to be wordy, it can be imagery that makes you feel empowered!
Simple rules
– Your postcard must be done by you, and hand made.
– Your postcard can be any size or form you like, but personally I prefer "normal sized" postcards.
– You must be over 18 years old to participate, this not a swap for kids.
– If you can't commit to sending out five cards by the end of November – don't sign up please. Thank you!
– I'm Swedish and this is a wonderful diverse international swap. Note that postage for your cards might need to be higher than for domestic mail (but you might get post from all over the world…).
Some Swap Background Facts: For the last three years I've hosted a swap where participants make handmade postcards to send out to each other in the spring. DIY = Do it yourself! This year as I decided to do it bigger and better – and go professional. I charge a fee to make the work I put into the swap and my blog sustainable (the participation fee is explained in more detail here), set rules, invite everyone who participate to my newsletter (and it has really grown – thank you!) – and then afterwards I also sent out a survey to get feedback. Almost everyone was super happy with the swap and quite a few were interested in a second swap this year! And this is it!

[paypal sign up button removed]
Let's make some postcards again!
Share your postcard photos in the postcard pool of flickr and links in the post Share you Beautiful Postcard Makings. Get my faux postal stamps. Inspiration is everywhere, and a lots can be found on my pintarest board.