I love getting handmade postcards and mail art – and of course that's why I arrange the now annual DIY postcard swap! And I keep everything I receive. Postcards have been laying around here and there, mostly in boxes where they tend to stay unseen. But today I decided to finally find them a permanent home!
I put together a Postcard Ring Binder using a recycled book cover. I took out the pages from the book and recycled the green cover because I think it's so pretty. My dad helped me attach a ring binder mechanism, bought at a office supply store, to the book spine. I'm very pleased with this small and unique Postcard Binder.
Take a closer look below.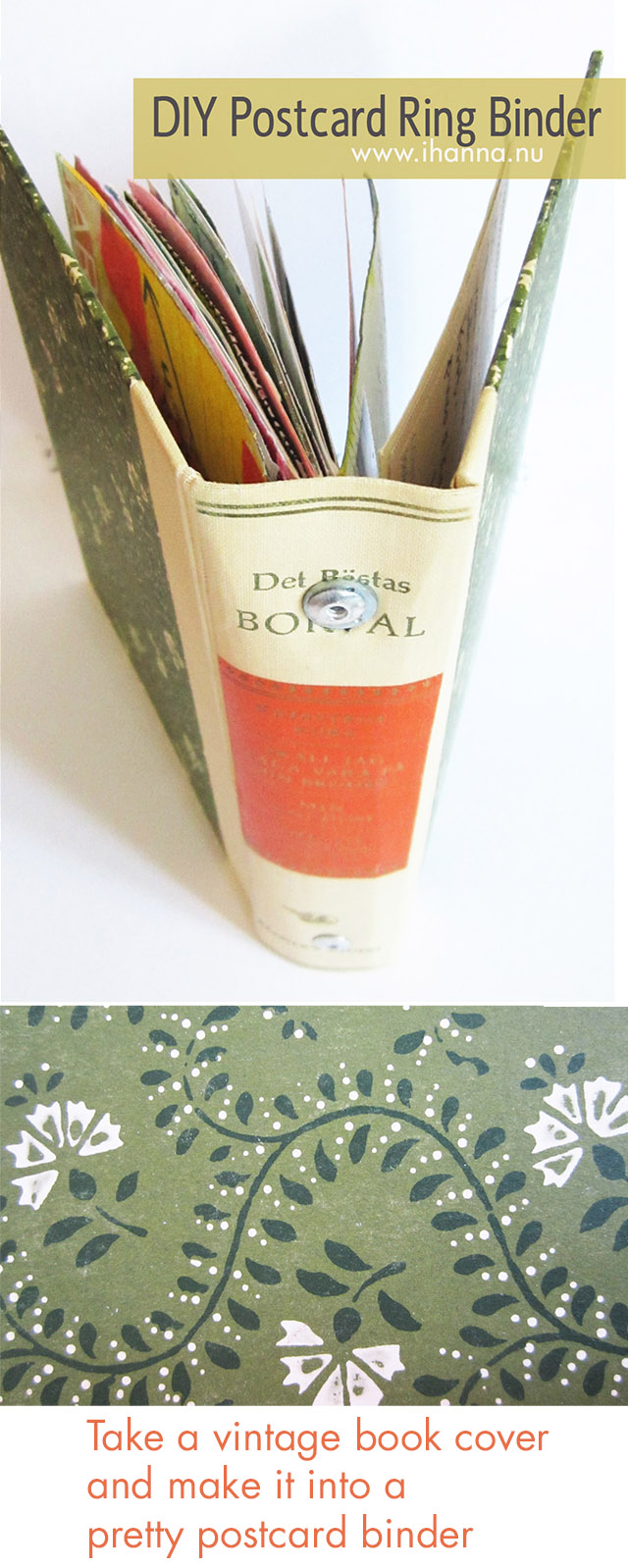 I have a few of these vintage books that I got at a flea market a few years ago. I love the green patterned paper and the cream coloured spine, though with the pins that attach the ring mechanism I might end up covering the spine with a fabric piece later. For now I just wanted to try to add a few postcards to see how it turned out…

I punched holes through the cards and put them into the binder.
I'm really having fun looking through these postcards and to fill this pretty ring binder! Lots of postcard inspiration in there, and love.
I have so many pretty cards, some are a bit too large for this binder but most of them are regular postcard size and those fit in perfectly. I think I will look through the cards more often now that they are organized in a binder.
I think the recycled book turned ring binder would be awesome for a new DIY Planner too? And I might need one for this year's postcards swap because this one is already getting quite full. I can also see this one filled with my collection of "regular postcards" from friends and family on holiday, some I've actually kept through the years…
If you want to start a postcard collection of your own, a swap is a good idea… Sign up for the DIY Swap here.
Also, check out the video tutorial where I show you how to make this kind of ring binder, and let me know what you think.