Imagine if all school where as fun as the one I'm in right now, then probably children would learn a lot more.
I'm in a class of journalist wannabes ages 18 to 40. Each week we have lessons in journalism, society of today and swedish writing. Last week we had no lessons at all. Instead we were trying to resemble a real newspaper editorial staff. Some where writing, some were doing the layout, and three were photographers (I was a photographer)! We also had two managing editors of course.
The first day it seamed to be totaly impossible to make a newspaper together. Nobody know what would or could be written, wich news would be found, how it would look or if anything would be ready on time (thursday was printing day all ready!). But we made it, and learned a lot while doing it.
There were a lot of missunderstandings and difficulties, but also lots of cooperation and fun. I took a bunch of photos that I'm real proud of, specially the photos of girl wrestling (I atended a group of children in the ages 7 to 11 years old and was very impressed by them) that made the first page (colour print) and that has lots of movement in them.
I also had time to make help the layout team, and did a spread. These two pages were put together by me: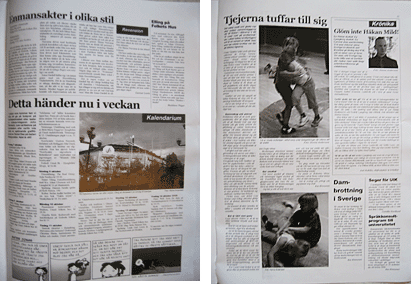 I wish I had more time in life, then I would make a zine about creativity for sure!
Photography is so fun, I love it!
Here are some links I'm enjoying right now:
Take care!